"The level of depth and intimacy my partner and I have has transcended just sex. I was expecting to get extremely excited watching and learning the techniques but the depth of emotion we have both experienced giving and receiving pleasure is magical."
Ever wanted a sure-fire way to add spice and passion to your relationship right now?
You're going to love this.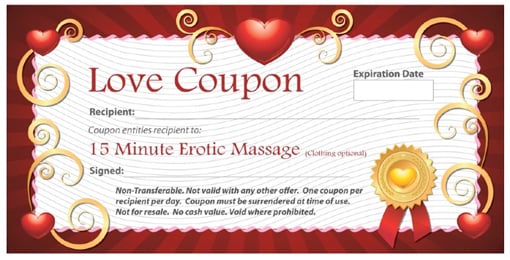 Full-Size Printable Coupon ⇐ Click Here To Get Full-Size Version
Print out this erotic massage coupon and hand it to your partner with the Steamy Sex Ed® Video Collection and some massage oil.
There's just ONE catch…
I selected each of the 8 DVDs in the Steamy Sex Ed® Collection specifically because they are filled with hot, sweet, heart-connected, passion-filled lovemaking techniques. . .
But they're in no way dirty.
These are tasteful, adult education that blasts you out of bedroom boredom.
"My wife was skeptical at first but once she watched some of them she was convinced. She never talks to her friends about the details of our sex life. She just says that my husband has learned so much that our love life just keeps getting better and better."
I curated this for couples who want that beautiful, passionate experience in bed to watch together, follow along, and try out new ways to give each other pleasure (without the awkwardness of watching dirty videos).
I also made this for singles so they can be ready for "The One," and for lovers who are dying for a flash of passion in their relationship.
Steamy Sex Ed® Video Collection ⇐ Get On The Early Bird List (Going On Sale 60% OFF)
You'll get one-day advanced notice before other people so you can have a chance to consider purchasing my Steamy Sex Ed® Video Collection before all of our 60% off sale copies are snatched up.
PASSIONATE MOMENTS
You can feel confident in giving your partner these DVDs or digital downloads as a gift.
If you want to go all out, get one of those gift wrap bags and add in a bottle of massage oil and one of these coupons with the Steamy Sex Ed® DVD Collection.
Get your lover in bed, start massaging them and slip one of the DVDs into the player or watching from your laptop in bed.
"It's created more open and honest communication about our bodies and the enjoyment we can get and give one another. These discs are non-threatening and enjoyable to watch."
There's one catch!
We're only making 500 copies and if you want to increase your chances of getting your hands on the Steamy Sex Ed® DVD Collection, click the link below:
Steamy Sex Ed® Video Collection ⇐ Get On The VIP List (Going on SALE 60% Discount Next Week! Limited Time Only) (Heart-connected, sensual, passionate lovemaking videos)
You will be on the Early Notification List and have a chance to get your copy 1 day before the crowds.
That means you can get access on the 21st of June, 2017. However, for everybody else not on the list, they can't order until the 22nd June, 2017. There are times when we get almost immediately sold out. So get on this VIP list. All it means is you get first chance at seeing the video samplers and to decide for yourself you want this.
Then you can spend the weekend with your partner trying out all the passionate new ideas you see on the DVDs, or simply having fun together watching it.
Get On The VIP List ⇐ Steamy Sex Ed® (Going On Sale Next Week — 60% OFF, Sale Is Over As Soon As We Run Out Of Copies) (Heart-connected, sensual, passionate lovemaking videos)
The Steamy Sex Ed® Video Collection is available in HD digital streaming and download as well as physical DVD's. However, there will only be a limited number of copies. And we usually sell out days before the sale ends. So I suggest you sign up for the VIP list to get your copy before everybody else gets the chance to order theirs.
I only print 500 at a time because the inventory carrying costs are high.
So if you want to be at the head of the line, in front of everybody else who can't wait to get a taste of Steamy Sex Ed®, get on the VIP List today!
Steamy Sex Ed® Video Collection VIP List ⇐ Jump To The Head of the Line!
(We will sell out! Get on the VIP List to get one-day advanced notice before the crowds buy everything and you can't get a copy. This 60% Off SALE Ends sooner if we run out of copies. There are only 500 DVDs available for purchase at this sale price. A Digital-Only option is also available. Get on the VIP List.)
Because you're one of my readers, I want you to have first dibs.
Go ahead and take one second to click and press enter to get on the VIP List now.