You may have read my advice encouraging both men and women to have more "solo sex." I want to leave you with the notion that women can become more orgasmic by frequent self-pleasuring… And men can learn to manage their arousal and have more stamina by masturbating in certain ways.
Men who get the joy of watching their woman masturbate can also get an insight into how she likes to be stimulated.
And if you got to watch three or four women masturbate, you'd realize how differently everyone does it.
That's why I want to remind you that if you purchase my amazing Steamy Sex Ed® DVD Video Collection during this sale that ends now, you will get a bonus video called, Female Self-Pleasuring.
BONUS DVD – Female Self Pleasuring <=== 60% DISCOUNT – Get the BONUS DVD Before Steamy Sex Ed® Runs Out (Only 14 copies left)
LOVE THYSELF
Ladies, this BONUS is especially for you. It would be lovely for you to be able to explore new, sexy and exciting ways you can pleasure yourself….
More than just the old, "finger yourself to climax" or relying on toys to reach nirvana on your own….
There is an entire section of female self-pleasuring techniques packaged as a bonus DVD. And you can only get this bonus DVD if you get both the physical and digital copies of the Steamy Sex Ed® Video Collection.
Now, this doesn't mean men can't benefit from this as well.
You can share this with your lover so they can discover just how expansive a woman's pleasure levels can be and the heights he can take your pleasure the next time he wants to make you climax.
But you need to move fast!
Only 14 copies remaining. Buy both the physical and digital copies to get the BONUS DVD for Female Self Pleasuring.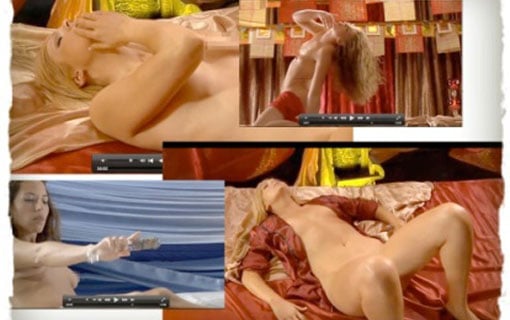 ELEVATED SELF-PLEASURING FOR WOMEN
You can learn a lot by watching this NEW BONUS video for the "Steamy Sex Ed® Video Collection" called Female Self-Pleasuring.
Each girl in the video performs entirely fresh and individual techniques to make herself feel good.
What they do is completely different from how a man releases himself.
How much better a lover could you be if you knew how other women got themselves off behind closed doors?
Only 14 Units Left ===> Grab A Copy Before They're SOLD OUT
LEARN FROM OTHERS
It's mind-blowing to watch different women pleasuring themselves because you are suddenly aware of two things:
1) You can get a woman off by using her surefire method to give yourself a competitive advantage at fully satisfying her. Ladies, teach your men!
2) The variety of ways women masturbate is impressive! Watching this video and learning the techniques displayed will add to your skill set. Learn new ways to get yourself off!
As I am writing this, there are less than 14 copies of the 8 DVD collection left before our 60% Valentine's Day Gift Sale ends.
60% off until supplies last.
Get Steamy DVDs delivered in a plain discreet box for binge watching.
New! Digital Download option for our International friends – watch it immediately.
You asked for it: EZ Pay now available. (very popular!)
Get everything for only 3 payments of $69.95.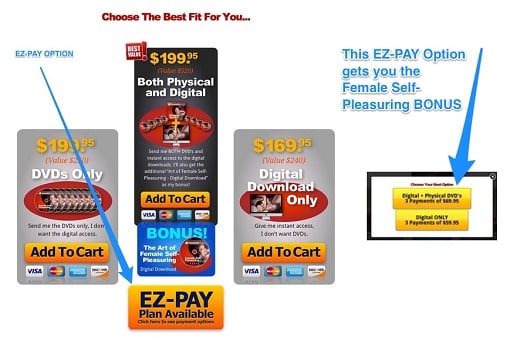 HURRY! ONLY 14 COPIES LEFT
No more Steamy after that until sometime in future.
I only ordered 500 units because I do not want to carry the inventory.
Get your copy now and give your partner the variety and snuggling they crave for.
"I'm not going to let my second wife get bored of sex. We already watched half the DVDs. Your "Date Night Happy Endings" – was a great idea. THANKS." – George
Remember the EZ Pay option? Here's how it works exactly.
We will break down the Steamy Sex Ed® DVD Collection into 3 monthly payments so you can start watching tonight!
You still receive the Female Self-Pleasuring digital download BONUS with your EZ Payment Plan when you buy the physical DVDs.
HAVE MORE FUN IN BED TOGETHER
Since it's a collection of 8 DVDs, it's a large amount of sexual content.
Normally it costs $520 for the physical and digital versions but it's on sale now for $199.95.
That's a 60% discount.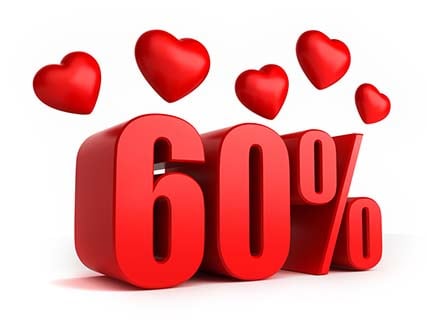 If you choose the EZ-PAY, here's what you will be billed:
This month you will be charged $69.95 plus a flat shipping rate of $10 domestic and $25 International.
In 30 days, we'll bill you another $69.95.
Then in 30 more days, you pay the final $69.95.
TRY IT RISK FREE
As always, you have the first 30 days to make sure you LOVE the Steamy Collection.
If you want to send it back, just contact us at [email protected] or call us at 1-888-963-9025.
We give you an RMA# (return materials authorization) and then when we receive your return, we refund your card.
EZ Pay Will Make Your Day!
*The EZ Pay doesn't work on PayPal. But it works with credit cards.
We also now accept Western Union and you can mail us a money order.
Note: When you select the DVD and Digital "Best Value" Option, you will receive the Female Self-Pleasuring bonus with EZ Pay.
BONUS DVD – Female Self Pleasuring <=== 60% DISCOUNT – Get the BONUS DVD Before Steamy Sex Ed® Runs Out (Only 14 copies left)