Survey says, "Penis size", anal and kink are dead last.
Guess what ranks #1 in my "What Makes A Great Lover" survey?
Penis size, giving and receiving (pegging) anal sex and openness to BDSM/Kink are the attributes women desire least in a great lover.
According to the research we did with the Intimate Arts Center "commitment to being present/connecting" is most important.
Do you know how to show her you are present?
Are you able to stay focused on your pleasure together, no matter how intense it gets, without coming too fast?
Watch this video I'm about to take down on Monday called, "How To Be Present During Sex."
I start off describing "transcendent" sex, then Jim Benson and I get into a description of "presence."
Jim even leads us through an "exercise" to show you how you can know you are present during sex.
Since this is the most important attribute of a great lover, I heartily suggest you watch this video now.
How To Be Present During Sex <== Commitment to Connection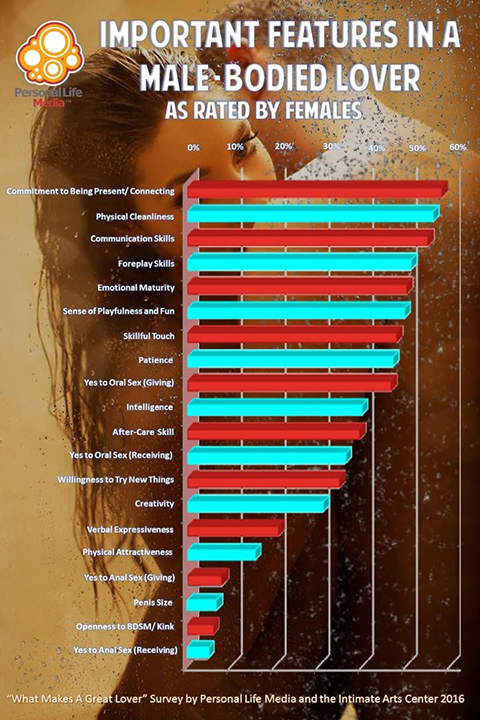 WOMEN WANT YOUR PRESENCE
This technique is what the world's best lovers bring to the table, regardless of their size, stamina or ability to "move."
In fact, in their private conversations with me, women around the world swoon over men who know this secret.
What high class hookers and Tantric sex masters agree is that "PRESENCE" is the #1 thing you can do to increase your and your partner's pleasure.
Most men are really lousy lovers because they THINK they know what that is… but they aren't doing it.
What they are doing is distracting themselves to keep from coming too fast when it feels really good.
When you can tolerate intense pleasure, and demonstrate your pleasure to your lady, she will start coming harder and more intensely.
The ME Breath inside Multi-Orgasmic Lover for Men teaches you how to tolerate intense pleasure which triggers her orgasms.
Watch this video to find out how to both BE PRESENT and last as long as she wants you to. <== Click Here This Video Is GONE Monday
When you watch The #1 Key To Great Sex Video, Jim and I will make you a special offer to get a copy of Multi-Orgasmic Lover for Men at a discount.
WATCH NOW
This is the last time we will offer this discount.
If you've wanted to own it. Get it. The price of Multi-Orgasmic Lover for Men will be going up.
It has been a wildly popular offering teaching men a series of significant sexual techniques including the ME Breath, the Chi Breath, Energy Cock, the [email protected] techniques, the Jet Pack Accelerator techniques and more.
We are raising the price and adding more new techniques to the program in 2017.
If you purchase during this sale — which ends October 24th:
➤ You will be "grandfathered in" to receive all future content updates. (there will be MANY new features added)
➤➤ You will also gain access to the Sexual Mastery Inner Circle where guys convene to share their journey of using these masculine sexual leadership tools and skills.
➤➤➤You will not have to pay a monthly ongoing fee to access the program if you buy now.
➤➤➤➤ So go watch the #1 Key To Great Sex video and see if you like Jim's training style and you want to know techniques that will help you last longer in bed and give your woman much, much more pleasure.
Watch The #1 Key To Great Sex Video <== Triggers Her Most Intense Orgasms
See for yourself that you want this before this program goes away and doesn't come back until next year… and will cost you more.