Secret Competitive Dating Advantage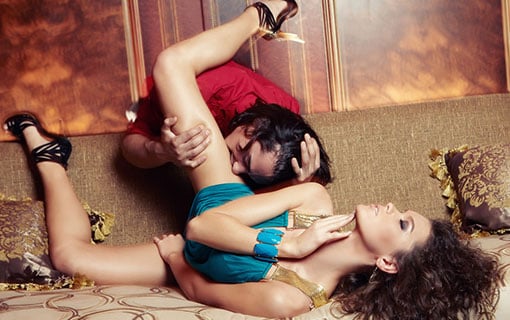 Get any guy to love YOU best.
Go ahead and take one second to click and press enter to get on the VIP List now.
The most powerful attractant to get the BEST man is this…
HOW does his body feel when it's with yours?
Does he melt around you?
The best way to make his body feel great when he's with you isn't what you think.
It's not about doing anything and everything he wants…
It's not about dropping to your knees… or giving your own needs up to make him happy…
It's being confident and complimentary in bed.
A guy will choose a woman based on PASSION.
Is there chemistry?
Do you turn him on?
MAKE HIM ADDICTED TO YOUR BODY
That, more than how you look, will attract him to you.
But it's important not to seem like you are "trading on sex." He actually won't respect you.
So how do you navigate this landscape to be sexually irresistible but not sl*tty?
The best thing you can do is have a few good bedroom techniques…
To let him know what he can do to give you incredible pleasure…
And then when he does, make a big fuss about how great he is in bed.
Being sexually knowledgeable, confident but not acting like an adult star strikes the perfect balance.
And to help you, I've created a series of 8 videos on passionate physical intimacy called:
The Steamy Sex Ed Video Collection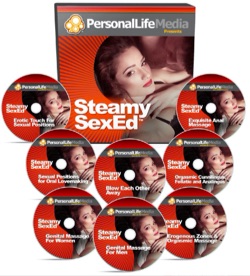 8 VIDEOS OR DVD'S
Made for women and couples to watch together… Steamy Sex Ed Videos are heart-connected, conscious lovemaking techniques portrayed by couples who are handsome but NOT TOO PERFECT.
The candlelit sets are draped in silk and satin and showcase sensual massage and lovemaking techniques.
These videos are the antidote to pornography.
Too many women tell me their dates just, "stick it in" too fast!
And these guys are selfish, not concerned enough with YOUR pleasure.
So the best way to both combat this stressful dating situation AND have enough knowledge and techniques to help a guy do a good job is to WATCH these lovemaking videos so you can see what truly sensual, erotic lovemaking can be like.. and then show or tell him how to please you.
You won't see lovemaking techniques videos like this on the Internet. You won't see this kind of demonstrations in the movies.
This is straight up 200 techniques showcased by sweet couples so you will have an incredible repertoire of moves you can use to make HIM and YOU feel incredible pleasure.
That creates a winning experience for him that will endear you to him above all other women.
BUT HERE IS THE CATCH!
I only print 500 at a time because the inventory carrying costs are high.
And each time I put them on sale for 60% off, I sell totally and completely out… often before the sale is even over.
So if you want to get a one-day advanced sneak peek at the two video samplers, go ahead and enter your name and email address here:
Steamy Sex Ed Video Collection VIP List <== Jump To The Head of the Line!
(We will sell out! Get on the VIP List to get one day advanced notice before the crowds buy everything and you can't get a copy. 60% Off 'Red Hot' Sale Ends 6/20/16 or sooner if we run out of copies. Only 500 DVD's available for purchase at this sale price. Get on the VIP List.)
You'll get to watch two video trailers when you click the link I send you on June 15th.
You can decide for yourself you want Steamy Sex Ed.
Getting on the VIP List is free. It doesn't mean you have to do ANYTHING but you can watch the video samples.
Because you're on my list, I want you to have first dibs.
Go ahead and take one second to click and press enter to get on the VIP List now.
Steamy Sex Ed Video Collection VIP List <== Jump To The Head of the Line!
(We will sell out! Get on the VIP List to get one day advanced notice before the crowds buy everything and you can't get a copy. 60% Off 'Red Hot' Sale Ends 6/20/16 or sooner if we run out of copies. Only 500 DVD's available for purchase at this sale price. Get on the VIP List.)