Free video reveals how to safely evoke fantasy into your sensual life.
Imagine you the Celtic Moon Goddess, Cerridwen, making love by the light of a full moon beaming in through your bedroom window. Cerridwen is a crone with powers of prophecy. She is the keeper of the cauldron of knowledge and inspiration. In her cauldron bubbles magical brews that make her feel otherworldly sensations of pleasure with her lover. She is dressed in the style of Celtic princesses with undergarments of gold and silver. Her lover worships her and brings her to ecstasy over and over again…
In your fantasy life you can create anything you want. Your mind is fertile ground for passionate exploration.
That's why I want you to go watch this video where I explain how you can safely co-create incredibly sexy fantasies with your lover:
Create Your Sexual Fantasy <=== Use These Safe And Sexy Techniques
This is Deborah Bennett, the winemaker at www.cerridwenwines dot com on Sonoma Mountain in California.
I am posing with her for this photo in a wine shop in my small town of Mill Valley.
Deborah makes Pinot Noir, a Red Wine and a rare Abouriou she calls, Moonlight Sonata. She picked her grapes by the light of the September full moon and imbues her wines with the mystical powers of Cerridwen, the Celtic Moon Goddess.
Deborah is a beautiful example of a woman who brings her fantasies to her work as a wine maker.
Bring Your Fantasies To The Bedroom as a Lover   <=== Technique Makes It Safe To Share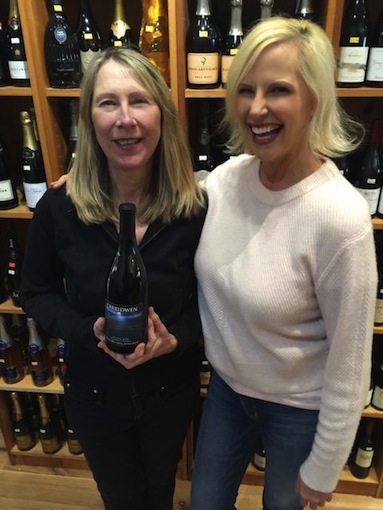 DEBORAH BENNETT, WINEMAKER
You can bring your fantasies to your lovemaking by following a few simple "rules of engagement" I explain in this video:
Are You A God and Goddess? A Damsel In Distress and A Canadian Mounty?   <=== A Sexy Staycation In Your Bedroom
What would it be like if the next time you made love, you assumed the character of an empowered goddess?
How would she act? What pleasuring skills would she bring to the bedroom?
I leave you with your fantasies… now go watch the video.
Knowing how to elicit fantasy play with your lover can exponentially increase the fun and joy you have together.
But also knowing the safe agreements, boundaries and "rules of engagement" put you a solid foundation so the sky is the limit.
Safe Fantasy Sharing <=== What Are Your Deepest Desires?