Seeing, feeling and grasping the big picture.
"Where you lead, I will follow."
"Sowing the seeds of love."
If you don't have a plan, how can you lead your lover to more pleasure?
If you don't have a vision of what you want sexually, how can you keep your boundaries in tact?
The third seduction key is Sexual Vision and without it, you cannot achieve the highest peaks of passion.
You have some ideas of what fun is to be had and you base your offers on that vision.
SEXUAL VISION IS KEY
The Key of Vision grants you the capability of seeing/ feeling/ grasping the big picture and using what you notice to create a compelling menu of offers that she can follow —willingly and eagerly —into turn-on and rapture.
And though the feminine is more oriented toward following the masculine's lead, she must have a vision for how far she wants to go too.
It's about having the vision to choose the right thing to do next, be it making offers (leading to that magical "string of yeses"), sharing acknowledgments, giving empathy, dealing with an issue, moving to sensuality, noticing where the momentum is going, expressing gratitude, or making new and better suggestions whenever your other offers aren't being eagerly snapped up.
TAKE THE NEXT STEP
When you combine The Four Keys to Seduction, it's effortless to seduce someone.
You don't have to feel uncertainty… you know what to do.
You don't have to worry about rejection… you know what to offer that will be graciously accepted.
Using The Four Keys drives your win rate through the roof!
Learn more about The Seduction Trilogy <=== All The Details
Now, you can go buy this program anytime. It's called, "The Seduction Trilogy." It's three eBooks with companion audio books to which you listen so as to quickly and easily integrate the model and start using it immediately.
This multi-modal learning approach makes the model sink in quickly so you can apply it efficiently without any learning curve. If you like to listen to audios, Sloane Fox reads these books so sexily that you'll get turned on listening to her!
But there's no hurry. You have one more email to learn more and we sell this program every day, all the time, so it will be there if and when you're ready to want to add this foundational skill to your lovemaking communications toolbox.
One important note… This program is as effective for the masculine as it is for the feminine and anywhere in between. It's for people to create more fun experiences together of any kind.
Here is the link to go to the Seduction Trilogy website and learn more. If you sign up for the free eBook, More Sex More Often, you will begin getting emails about seduction from Dr. Patti. Just be careful you don't go and sign up for too much stuff all at once on our websites or you might get overwhelmed. We can always help you manage your email volume. Just email [email protected] and our customer care team (they are awesome!) will help you.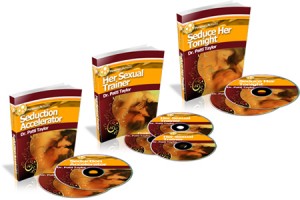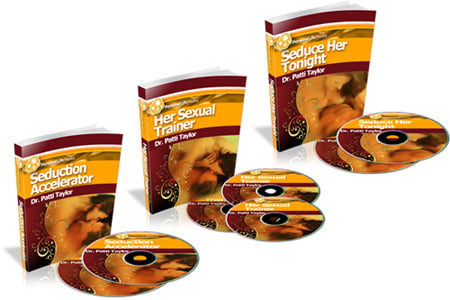 <===  CLick Here Go To The Website