A guaranteed hug with THIS. (FREE GIFT)
The precise romantic gestures that drive your lover wild.
You don't go to doctors that are unhealthy…
Or dentists with bad teeth
So you sure don't want to take romance advice from people with bad relationships!
That's why I want you to get to know us… Susan and Tim Bratton.
TRUE LOVE ALWAYS
Nearly a decade ago, after almost losing our marriage to lack of intimacy, we started Personal Life Media to help people have truly satisfying relationships.
We share what we've learned about igniting passion and keeping the flame alive for singles and couples through our books and programs.
That's why I want to give YOU a free gift just to get to know us better.
Tim made me a special page — JUST FOR YOU  — where you go download my super valuable book called:
"30 Romance Tricks That Work Like Magic" <== With My Compliments!
MAGIC MELTS HER
The 30 romance ideas in this book are based on my "5 Pillars of Passion."
I go on TV a lot talking about romance and hot dates that create passion.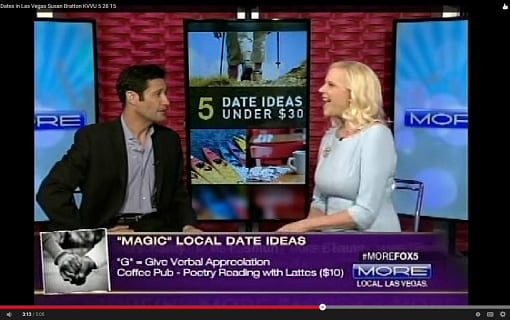 SUZ ON TV
You know taking your woman out on a date is what makes her melt for you.
Well this book has 30 great ideas and most of them hardly cost anything at all.
GET IT NOW, SWEETIE
This is a book we normally sell all day long, every day, but literally put up a free page for the next week or so just for YOU, where you go grab the romance tricks with my compliments.
This page will be taken down.
There I said it.
And it's the truth.
So get your copy and discover the precise romantic gestures that will drive your partner wild.
See their eyes light up as they can't help but respond with love, laughter and outright physical affection!
Romance keeps your relationship alive, but if you do the wrong things… it's wasted effort.
30 Romance Tricks <== Make Magic Happen
The more love you give, the more love you feel.
To Romance,
Susan
P.S. Romancing your partner is a gift you give yourself.
So when you download this book with my compliments, you're actually giving yourself a present too.
30 Romance Tricks That Work Like Magic <=== Free Copy Expires Soon