"This is the #1 most critical thing I did to hold my shit together through a horrible issue last August."
I have the most incredible (free) gift for you today. Scroll down…
BOUNCE BACK BIG!
It's like I waved my magic wand to manifest the best present I could give you this year!
First, can you tell me why is it that some people are able to handle and glide through difficult times with ease and get through them more quickly than others?
Sure, suffering is a human condition – no one is impervious to it – so it's about how you cope with and handle your suffering that determines whether you move quickly through struggles.
That's why this brand new gift from my friend and "bounce back expert" Sonia Ricotti makes me so happy.
This book is a must-read if you want 2016 to be your best year EVER!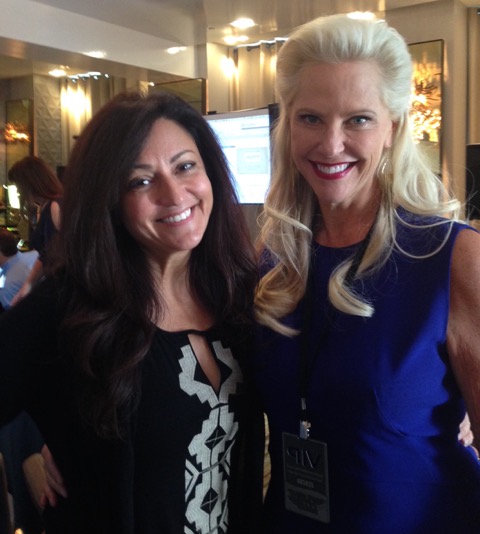 Sonia's phenomenal webinars have helped millions of people recover from horrible situations to go on and create extraordinary lives beyond their wildest dreams.
Learn once and for all how to overcome the challenges life has thrown at you, and quickly and easily bounce back bigger and brighter than ever before.
In "Bounce Back BIG in 2016!" Sonia gives you her crash course (free) to achieving the life you love and deserve.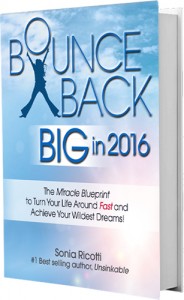 Go To Link Below to Grab Your (Free) Copy Now.
What is the difference between the people who handle difficulties and setbacks well and the people who don't?
The answer is inside this book. Go get it!
Sonia is giving this special eBook away for a very limited time, so make sure you get your hands on it now while you can.
Bust Out Big Time in 2016!
Make sure you also register for Sonia's latest Unsinkable "Bounce Back" Webinar Workshop which goes hand-in-hand with this life-changing book.
You'll receive the invitation to reserve your spot for this (free) training right after you get her book. Go here to get this life-changing book now.
When you register for Sonia's webinar, which I have personally taken you will get your positive focus back on track.
Download Your (Free) Book Now > > >
Unlock Additional Members Only Content
Please login or register for a Free Membership to view this content.