"I felt guilty being so bored with him."
Did your husband end up being someone you raise kids and split bills with?
GIVE HIM A CHEAT SHEET
You know the drill…
Instead of a loving husband, you get a glorified roommate. You spend lonely nights watching TV in separate rooms instead of being held securely in your husband's arms.
Instead of a life partner, your husband ends up as someone you raise kids and split bills with. Your cold relationship makes you feel empty, always needing more but never ever finding it.
Shopping can't fill that void.
TV nor food can fill it either.
You continue the same dull conversations, and you feel guilty for being so bored with a man you're supposed to adore.
You just want a soulmate, but the bond you once shared withers away. You'd sooner light your hair on fire than continue down this miserable path.
You deserve to stay madly, deeply, and passionately in love for decades.
But if your husband doesn't meet your needs…
And he isn't figuring out how to make you happy…
Give him the answer with this…
Discover What You Need To Experience Pure Satisfaction<=== It's Fun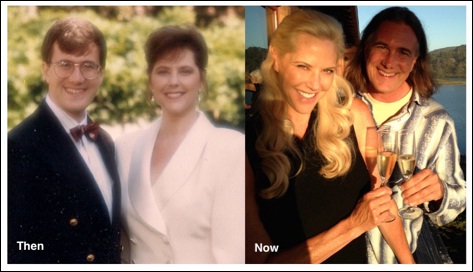 THE MARRIAGE MAGICIAN
My name is Susan Bratton and you may have seen me on American and Australian television talk shows.
I have been fondly called, "The Marriage Magician."
The pain my husband and I went through to be here with you now brought us to our knees as a couple.
My husband, Tim, and I have been married for 21 years, but 11 years in, our marriage was on its deathbed.
In the flurry of dual careers, raising our daughter, and running our household we lost our intimate connection.
We were co-habiting … The passion was gone.
As friend after friend got divorced, we were tormented and emotionally shattered ourselves… inches away from splitting up too.
I still believed in love. Tim still believed in love.
But intention wasn't good enough.
As if starting over at 45 wasn't enough to fill us with dread, we were more panicked about ruining our little girl's childhood.
So we went to personal growth events, did couples' workshops, and spent a fortune on marriage counselors to re-spark the fire.
Then Tim said one thing that changed our relationship forever…
"I wish I had a cheat sheet to figure you out!"
Lightning struck.
That was it.
Suddenly, I became clear on what we had to do.
That's when I went to work on Relationship Magic. <=== Check It Out
Once Tim and I did the exercise I share with you in my ebook, every day since has been filled with incredibly positive energy, pure love, delight and dedication to one another.
I only had to uncover what it was I needed.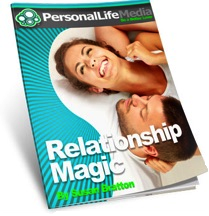 Once he had a very detailed descriptions of how he could help me feel he was meeting my needs, he could stop treating me how HE wanted to be treated… because until now, that's all he knew how to do.
Tim just needed to KNOW exactly what to do to make me unbelievably happy and in love with him. (Really, your husband won't believe how easy it is.)
Taking a few minutes of time has resulted in a mutual appreciation that grows stronger every minute.
But we came so close to earning our membership in the broken hearts' club.
Now I can't keep my hands off him, even though we've been wearing these wedding bands for over twenty years.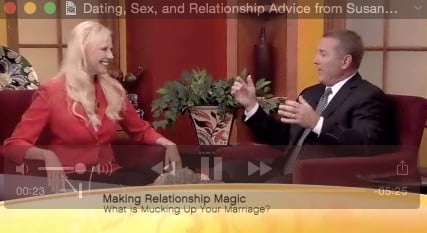 MAKE IT EASY FOR HIM TO MAKE YOU HAPPY <=== Busy Husband's Cheat Sheet
You're moments away from getting right back to that honeymoon stage and having a marriage that gets sweeter, closer and more intimate as time goes on…
Turn Ho Hum Into Woo Hoo!