"When the skin system of the penis is amputated, our co-created genitals can no longer collaborate as needed." — Sheri Winston
My friend Lee told me he was hanging weights from what was left of his foreskin to encourage it to grow back to cover his penile glans.
He was angry that his parents circumcised him. He didn't get the choice.
And he began foreskin restoration to regrow his prepuce.
In Sheri Winston's impressive new book, Succulent Sexcraft, she says the following. See if you can relate:
"Circumcision is an ignorant, hurtful and harmful thing to do. The word is actually a euphemism — the medical term is foreskin amputation, but it's really male genital mutilation."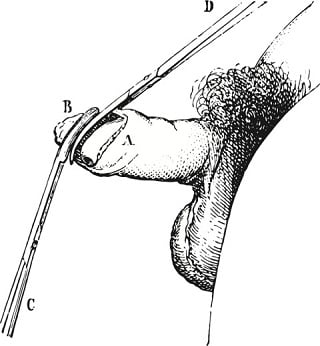 She says:
1) The emotional and physical trauma has lifelong effects
2) Removing healthy tissue is a human rights violation
3) There is an ecology of healthy penis tissue whereby the smegma is a secretion of sebaceous material, pheromones, emollients, lubricants and protective antibodies that are compromised when the foreskin is amputated
4) Circumcised penises have less pleasure
According to Sheri, the foreskin makes up 20-25% of the your penis skin. So when you cut off 25% of your skin, you lose that much pleasure from loss of nerve endings.
But here's the real rub!
When you lose your foreskin, your glans (tip of your dick) get calloused and lose even more sensation.
And it gets worse.
Worse for your sex partners…
Sheri says the reason that over half of women in our culture don't have orgasms from intercourse is because, "When the skin system of the penis is amputated, our co-created genitals can no longer collaborate as needed."
"During vaginal intercourse, the foreskin acts as a loose sleeve that remains relatively motionless in the vagina, allowing the penis to glide in and out in a mostly friction free manner. Circumcised men often need a lot of thrusting to get the extra friction they need to get off since they lack all the foreskin's wonderful nerve endings. Foreskin owners tend to use a connected hip-rocking motion more than the old in-and-out. Chicks dig this: Less friction means less irritation, and less thrusting means more contact with the entire erectile networks. Together this translates into more pleasure. While friction may be the circumcised man's best friend, it's often not the woman's."
This is another reason why it's good to use some lubrication during sex, especially if you're circumcised. I recommend any kind of organic oil you could make into a salad dressing. If you can eat it, you can put it on your genitals. Coconut, grape seed, and avocado — as long as they are light in color and most odorless — are excellent and low cost choices for lubrication.
Her genitals are delicate tissue. Try to keep any chemicals out of her Yoni.
And finally, if you're circumcised, you can look into the many options for foreskin restoration, but most of all, what's done is done. Forgive and let go of your upset and deal with what IS. There is a wonderful male solo play exercise in Succulent Sexcraft called, Healing Circumcision Trauma which you may want to try.
Keep your penis covered so it stays sensitive, use lubrication for lovemaking and pass on this knowledge to others around you so we can end genital mutilation for both men and women worldwide.
I Feel You I Heal You.
Unlock Additional Members Only Content
Please login or register for a Free Membership to view this content.