Natural, shame free and honors mind, body and spirit.
Connecting with another human in sensual lovemaking has the ability to plug us into our divine nature.
So says Sheri Winston, author of a must-read new book called, Succulent SexCraft.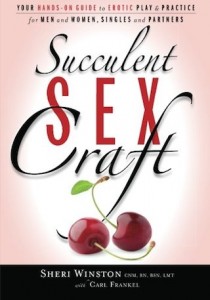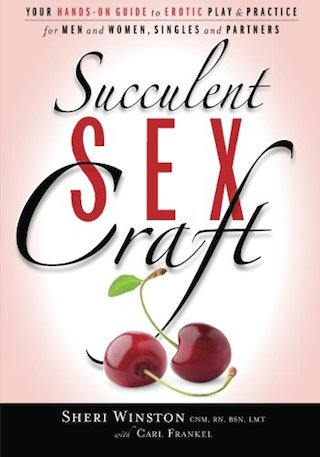 Get the book between September 14-16th and you will receive over 30 bonuses valued at $1,000.
SEX IS ABOUT CONNECTION
Your sexuality starts by connecting with yourself and then your lovers.
Sex is both natural and learned.
To fulfill your sexual potential, get Sheri's maps and models in Succulent SexCraft.
TODAY IS THE DAY!
Buy Succulent Sexcraft: Your Hands-On Guide to Erotic Play and Practice by award-winning sexuality teacher Sheri Winston AND get over $1,000 in great sex and relationship tips from some of the world's greatest teachers, absolutely FREE!
I encourage you to purchase Succulent Sexcraft today. Why? Because with Succulent Sexcraft, you get:
– A fun, accessible roadmap to erotic fulfillment for anyone and everyone, regardless of gender or orientation, whether partnered or single.
– The opportunity to become the lover of your dreams.
– Exclusive access to web pages with extra games, 'playshops' and more – —it' is a learning community!
– Over $1,000 worth of free sex, relationship and empowerment goodies from some of the world's great sex and relationship teachers …if you buy the book TODAY (between Sept 14-16)!
We are delighted to include Dr. Patti's "More Sex More Often" book in the FREE GIFTS that you get when you buy Succulent SexCraft between Sept 14-16.
Unlock Additional Members Only Content
Please login or register for a Free Membership to view this content.