I was talking to Suz (Susan Bratton) yesterday and admitted that I rarely ever make love without starting with an Expanded Orgasm genital massage by my husband.
Why is this a guilty confession?
THE BEST FOREPLAY EVER
Because when you first start your Expanded Orgasm practice with your partner, the "rules" are that a DO Date (another word for having an Expanded Orgasm session) should be quarantined from expectations that it will lead to further sex.
The idea about Expanded Orgasms is that it's an opportunity for a woman to fully receive without the expectation that she reciprocates sexually. Removing that pressure to also get her man off actually increases her desire to do so.
Nobody likes to "have to." We respond better to wanting to when we are first aroused beforehand.
The reasons for why an Expanded Orgasm date is its own contained experience is:
1) so the woman can learn to completely receive without worrying about what she has to do to earn orgasms
2) so the man can completely take control and enjoy having her lie there and come without paying him back
3) so there's no expectation to go further, which can prevent a woman from wanting an Expanded Orgasm date because she's not yet turned on enough to want more before the date starts
4) so she can get filled up orgasmically, because women have the ability to literally come for hours and seldom get a chance to experience that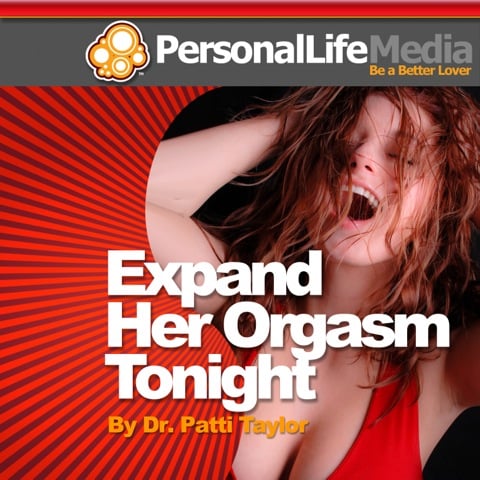 So many women can't let go and ride their orgasmic potential because they're too busy THINKING (instead of just feeling) about what they have to do next. That's not beneficial to arousal ramping.
EXPAND HER ORGASM TONIGHT
Suz and I both started out our Expanded Orgasm practices with our husbands where we would try for just a few minutes and then if we had any trouble dropping into a fully sensual body state, we could just call it quits, get up and resume our normal lives. This takes the pressure off during learning the strokes until she gets good at coming and he gets good at making her come.
But we both laughed when we realized that as champion Expanded Orgasm couples, we both liked it as the main foreplay before doing more oral and lovemaking with our lovers.
THE MAIN FOREPLAY
Time and again Suz and I have both found that before we are turned on enough to want lovemaking of any kind, having a DO Date helps get us engorged and aroused.
For both of us, like all women, it takes time to "drop in" to our bodies. It takes time to connect with our lover. It takes time to forget the cares of the world and sink into sensation.
You know the adage that a woman needs 20 minutes of foreplay to get aroused?
Well having an Expanded Orgasm session for 20 minutes — or longer depending on how hot and tasty her orgasmic delight is that day — makes any kind sex you have after the warm up so much more pleasurable for her.
Every time I skip this step of having a DO Date first, the sex is just never as satisfying for me.
I need that engorgement, I need that time to connect with my man, I need those early orgasmic contractions from the stroke patterns that are part of the Expanded Orgasm practice.
Yes, I can get turned on with kissing and with oral sex, but it's just NOT as good as when my man strokes my pussy with the Expanded Orgasm stroke pattern.
Suz said she feels exactly the same way.
Expanded Orgasm is the #1 way to get a woman as turned on and aroused as possible prior to penetration.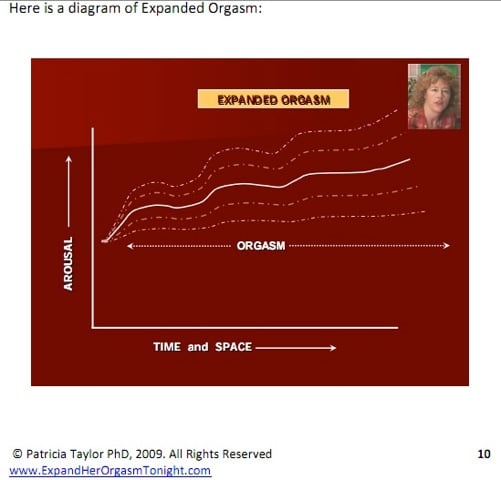 SHE WILL WANT MORE INTERCOURSE
So many women say they cannot orgasm from penetration. This turns fucking into a duty rather than a desire. And then men feel like they are just using her to masturbate their penis.
If more couples took the time to do the 21 erotic play dates in the Expand Her Orgasm Tonight course, they'd have sex so much better it's like black and white turns into all the colors of the rainbow.
There are a series of videos inside Expand Her Orgasm Tonight that show you the entire stroke pattern from start to finish:
Getting Her In Her Body
Engorgement
The 3 Opening Strokes
Continuity and The Stroke
Adding In Your Second Hand
Peaking for Pleasure
Penetration with your Second Hand
Variety
Stroking and Adding "The Anie"
Bringing Her Down – Ending The Date
Bonus: Staying On Her Favorite Spot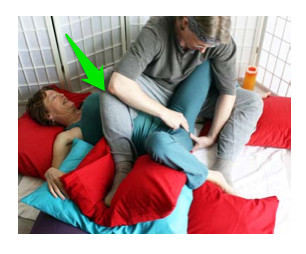 THE DO POSITION
If you want to be in the top 1% of all lovers, knowing how to be in an Expanded Orgasm state of physical and emotional joy and connection is the path.
There is simply nothing on the market that compares to this online video training.
Dr. Patti is a fantastic teacher, an excellent writer and the way she breaks the process down into 21 dates where each date builds your knowledge together makes it easy and fun to learn together.
When you are ready to take your pleasure skills to the moon, Expand Her Orgasm Tonight is the single best program you can buy.
It's changed my sex life for the better. It's saved Suz's marriage.
It makes the guy feel like an incredible stud and the woman like a sensual goddess.
If you have any questions at all about this sexual practice, let me know.
We have a money-back guarantee, so if you buy it and try it and it's not right for your life, just let our Customer Care team know and you'll get an immediate refund.
Grab a FREE copy of our Expanded Orgasm eBook to learn more how to get a satisfying lovemaking.