How To Empower Your Purpose With Sexual Energy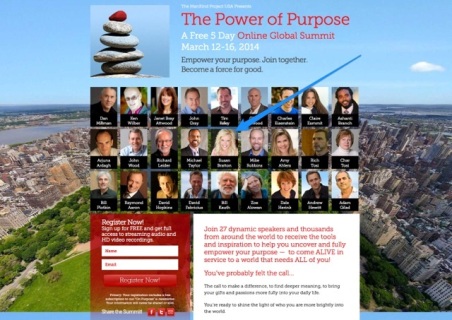 Re: 7 ways to awaken your sexual energy
I'm excited to let you know about at a complimentary 5-day online global summit that is focused on providing the tools and inspiration to help you clarify and deepen your purpose to be a force for good in the world. A fired-up change-maker. It's called The Power of Purpose Summit.
Join more than 25 purpose experts including Dan Millman, Ken Wilber, John Gray, Janet Bray Attwood, Chris Attwood, Bill Plotkin, Claire Zammit, Charles Eisenstein, Tim Kelley, Susan Bratton, and Richard Leider, who will be sharing their personal stories, as well as insights, tools, and techniques that will guide you towards fully claiming and acting on your purpose. The summit is hosted by Christopher Kyle, creator of the Power of Purpose Summit, and Marci Shimoff, #1 NYT bestselling author of Happy for No Reason.
Being disconnected from our purpose can result in a host of challenges: Withdrawal from the world. A withholding of gifts.  A "numbing out" of life.  A downplaying of power. And much more.
On the other hand, people who are serving others with their purpose, with their passions and gifts, inspire themselves and others around them… ultimately finding the deeper meaning they've been searching for.
My interview covers how sexual energy can help you live your purpose:
– Discover the primal trigger of lust that is a powerful force of energy.
– Find out how to harness polarity and the masculine/feminine magnetic attraction for more success.
– Learn about "embodied energy" and 7 ways to awaken your sexual energy.
It's time to build a massive global community of change-makers working at every level, and in every sector of our society. The Power of Purpose Summit will be a powerfully engaging event bringing together thousands from around the world to learn, share and grow in our purpose.
The more we support one another in fully claiming our purpose, the more our contributions will positively impact the world. So please join me for this inspirational event that runs from March 12-16, 2014  (you don't have be there live for all the sessions).
Click here to sign-up at no cost for this summit and get access to all the audio and video sessions:
Unlock Additional Members Only Content
Please login or register for a Free Membership to view this content.
Here's to all of us living in our purpose and making this world a better place.
There is an option to purchase all 27 recordings to listen later. And you can access everything at zero cost during the summit too. Women are encouraged to attend this year. Please forward to friends who are focused on serving with purpose and passion.