Here's a free "touch technique" for you to try with your partner. Nothing says, "I adore you," like this particular way of touching another.
Sometimes the most simple of things are the most profound, and "The Lingering Touch" technique is one of them. This works on men and women alike and gives your lover the sensation of feeling delicious to you.
The very next time you touch – try this. But remember, don't try to get a reaction, just touch for the pure pleasure of touching, OK?
The Lingering Touch
Touch your partner anyplace — arm, leg, back, hand, face — and as you remove your hand from their skin, slow down and let your fingers trail off their body… let your fingers linger like you don't want to let go because it feels so good.
Ever so slowly slide your fingers away like you are stuck to your partner with sticky taffy or molasses.
Notice every second of what their skin feels like on your fingers. Become aware of the magnetic attraction that your hands have for their body.
Touch them like you can't get enough of that wonderful feeling. Perhaps even get in a little last second squeeze before your fingers ever so slowly trail off.
Let me know how you like The Lingering Touch.
Here's a link to The Passion Patch, which is an eBook I wrote that explains a powerful Touch Technique that leverage a woman's animal instincts to increase her desire for physical intimacy.
Touch is the foundation of intimacy. Skin-on-skin bliss is something we all crave. But some people, who haven't been touched much, or have been touched in ways that were unacceptable in their past, need to be slowly indoctrinated to the glory of sensual touch.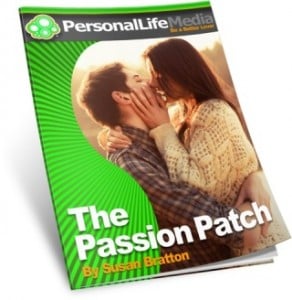 The Passion Patch can really help those situations where you want to escalate touch but have been stymied.