Imagine that every time you said the word, "pleasure" to your girlfriend or wife, she would feel a wave of incredible ecstatic physical, emotional purely addictive pleasure states?
Orgasmic Hypnosis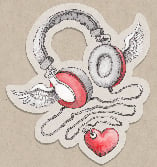 Listen to this audio dialog (below) with Susan Bratton, of Personal Life Media and Mark Cunningham, The Erotic Hypnotist discuss how orgasmic hypnotism works, why women love it and what kind of men and couples are drawn to the experience.
Note: To see the audio player you must sign up for a free membership to the Insider's Club below. No credit card is required and you can unsubscribe from the sex tips email newsletter anytime with a single click.
First of all, because most people don't understand how to hypnotize a woman, there tends to be a bit of fear of the unknown. I had to watch a number of orgasmic hypnotism videos (links below) to believe hypnotizing a woman was simply in no way manipulative, misogynistic or some kind of weird "mental roofie."
Then I realized, the women in these videos are doing this of their own accord. The women who are electing to be hypnotized WANT the experience!
The hypnotist is leading her in a guided visualization focused on feeling pleasure. She enjoys being hypnotized. She wants a method to bust through the glass ceiling of her sexual limits.  Hypnotism is a safe and fun path to encourage a woman's sexual transformation.
Just as vivid, just as powerful and just as real as your "awake" life – orgasmic hypnosis can give women the wild experiences they've always wanted  – but haven't ever had before.
The Goal When You Hypnotize A Woman
The goal is to teach a woman to lead her life free of emotional pain; to become emotionally and sexually free and to use orgasm as a tool for transformation.  Personal transformation comes in many ways, from personal growth work, meditation, therapy, workshops and most definitely from awakening a woman's sexuality in a wholesome and positive way. Hypnosis can aid women in overcoming the shame that society has saddled her with, that is preventing her from reaching her true sexual potential.
What really clinched the value of this technique was when I met Mark in person. As I got to know him, I realized how intelligent, kind, in complete support of all of the over 400 women he's hypnotized Mark is. Imagine how delightful it must be to give all these women incredible pleasure. Even women who have never experienced an orgasm can feel that feeling for the first time in their lives. That's when I realized I had to tell my guys about how to hypnotize a woman.
What Kind Of Women Is Hypnosis Best For?
What's funny is that the women who could benefit most from being hypnotized have often been indoctrinated to believe that being supported in realizing their most erotic, primal desires is the scariest thing on earth.  They get stuck between their inhibitions and their desires. And when you hypnotize a woman like that — a woman who is very shut down in her sexuality — even a woman who is anorgasmic —  you can open her in a way that would take years using only the physical path. Orgasmic hypnosis works very well at creating new pathways to a woman's sexuality, especially when they have no idea what the upper limit of their  primal sensuality is.
What Is The Actual Process When You Hypnotize A Woman?
The following explains the process of hypnotizing a woman so a man can know what is entailed.
Consider the process a series of progressive conditioning steps.
The first part of taking a woman into a trance is showing her how pleasant it is to be led. How she can go in and out  easily so she is comfortable going into trance instantly by a touch, word or glance.
The second step is to clean out her past, because the less of her past is in her future experiences, the more she can learn and grow.  So she never has to feel bad about the past again.
Then you lead her through an amazing journey, into the past. . .  future. . . on trips. . . So she can learn that within trance she can experience things with extraordinary and rich detail.
The fourth step is to open her up sexually. She's let loose of her past, her inhibitions are pacified. She can be led, be taught, how to respond fully and totally.
She becomes ables to come over and over, seemingly for hours, responding in her total body, being fully emotionally invested in her orgasmic pleasure.
Then she can experience, vividly, in a full kinesthetic fashion, that her sexuality is boundless and goes way beyond what she ever dreamt and her responses are literally under her control.
The triggers you set are permanent. And they get even better with practice.
The Feel-Good Feedback Loop
The beautiful thing about erotic hypnosis, beyond just the pleasure you create for her and they way you can give her new levels of erotic experiences she's never experienced but always wanted, is that this is a couples project you can do together.
When you learn how to lead her and she learns how to follow, it naturally creates that masculine/feminine magnetism that gets lost in our culture today when women earn money and are out in the world.
Women want to be led in the sexual realm by their man.
Taking your lady into trance is a delightful reward for her submission to your masculine sexual leadership. She wants that as much as you do, perhaps even more.
When you and your lady agree on the outcome of the hypnosis sessions and you hypnotize her with positive clear intent then she's comfortable when you trigger her pleasure responses.
When she hears your commands, she gets a wave of indescribably addictive pleasure.
When you reward your woman for her good behavior, it is particularly evocative for her. She feels more valuable, more prized, more appreciated, more alive, more sexually desirable.
What If She's Inhibited Or Afraid Of Being Hypnotized?
Fears are leftover emotional reactions to things that have happened in the past. Inhibitions occur when you are afraid of what might happen.
Orgasmic hypnosis is very good for women who have had a lot of societal conditioning that makes they fear their sexuality. In the trance state you do not bring your inhibitions into these "imagined experiences," especially if you are prompted to leave your old self behind, so you can experience the orgasmic healing powers of hypnosis. These fears and inhibitions are just thoughts, and when they are suspended, your woman's primal sexuality can come out.
This allows her to leave behind her fears and inhibitions to override her programming and find her true desires.
Because when in this trance state any thought can be created, edited or deleted, we have access to an infinite variety of pleasure states. Many women dream of having better orgasms, but that's just one form of pleasure. There are a wide variety of pleasure states that can be tailored to the tastes of the woman and can be installed "on command" so you can trigger this pleasure state in her. Because she's being rewarded and it feels so darn good, she wants more.
Why Isn't Every Man Orgasmically Hypnotizing His Woman?
According to Mark Cunningham, who has been teaching these techniques for years both in his online home study course as well as his sold out Las Vegas events, says:
"The #1 reason men are afraid to hypnotize their woman… The excuse is "it looks difficult to take a woman into trance." But what's really going on  is that these men are not comfortable with power. They are not comfortable having an extraordinary degree of influence, even positive influence, over a woman and they're certainly not confident that when they are calm, masculine and leading them in this experience that women will welcome their leadership." — Mark Cunningham
Yet every woman seems to love the experience. I look at this as sublime sexual leadership.
Why is that power so scary to a man?
"They are an elaborate series of punishments aimed at men who are acting in a natural, primal manner. So men are afraid if they are strong, confident, sexual or even dominant, they are going to be scorned, shunned or even afraid of legal consequences," says Mark.
Who Is Most Drawn To Learn How To Hypnotize A Woman?
A man who wants to lead his woman to her sexual potential and wants to embrace power play.
A woman who is always pushing the limits of her sexual potential.
A man who likes NLP, is good at running "patterns" and wants to go further.
The couples who genuinely care about each other but have lost the communication they once shared and are trying to reestablish intimacy but feel a lack of sexual connection and gratification.
People who want to strengthen and revive their relationship are the most common couples to take up this practice.
Once a woman realizes her partner can lead her into these ecstatic pleasure states, it frees their capacity to open up and re-bond. For the man that leads his woman into this amazing practice, they can rediscover why they fell in love in the first place. And then it's guns blazing hot sex because they can pursue her upper limit her primal sensuality.
Listen NOW or Download The Renegade Hypnosis Interview (Warning: There are some sexually explicit details.)
Unlock Additional Members Only Content
Please login or register for a Free Membership to view this content.
Three major forces are changing the way you can pleasure a woman that makes the time right NOW to add this skill to your repertoire as a masterful lover. First, many women earn as much as or more than men these days. The economic forces have created gender equality that diminishes the masculine/feminine polarity on which great sex begins. Women are dying for their men to "transport them erotically." Women want to be led in the bedroom, especially if they lead all day in their careers.
The second force is social – women naturally desire variety and novelty. Women are sexually eager and unashamed of their desire for exciting experiences. And for wives, it's crucially important for husbands to bring creativity and freshness to a monogamous relationship to keep it vital.
Finally, the technological forces that exist in today's world allow any man anywhere in the world to have access to "The Wizard of O's" as we call Mark Cunningham. You don't need to go to his events in Las Vegas. You can simply watch videos in the privacy of your own home to learn this amazing skill.
Your success is inevitable by simply watching and learning and can happen very quickly.
If you want to make women wildly orgasmic, highly responsive sexually, relaxed and happy, and willing to do anything to please you, hypnotizing your woman can remove any fears and inhibitions from her mind.  Let me know your questions by commenting below.
Discover this rejection-proof technique for making her sexual offers to which she'll eagerly say, "YES!" 
Safe Opt In Below For A Free Downloadable eBook