There are three ways you can mature and grow personally. Through your heart, through your mind and through your body. They are all equally legitimate paths to personal growth and maturation and your sexuality is a key area where you can put a little attention in and get a lot of pleasure and connection back out.
Many people yearn for more sexual variety, novelty and excitement in their sex lives. Some look for new sex positions. Others cycle through a number of partners. But for many monogamous couples, the sexy bedroom becomes a stalemate, with neither party willing to risk trying new things.
If you don't push yourself to experiment, your sex life will suffer from boredom and the quantity and quality of your sexing falls to the wayside.
To prevent that from happening for you, I've been researching sexual styles and found this for you:
There Are 3 Kinds Of Sex* 

The first is for Procreation…
The second is Relational…
And the third is Recreational.
There are still many people who believe sex is only for reproduction. The cultural or religious indoctrination of this kind of person can be very stubborn to change. If you are a sexually active person who wants their sex life to get better and better over the years, considering a monogamous relationship with a person who believes sex is for procreation only will be frustrating and limiting. I strongly encourage you to reconsider your choice of mates. Those men who have wives who stop making love to them after the kids come are men who are gutted and miserable in their relationships, often starved for affection.
Others who lean toward connecting with one person at a time and want relational sex are good candidates as sexual partners. With practice, you can continue to mature your sexual experiences throughout your life, having better and better experiences together well into your 80s. For many people, sex doesn't really get good until their 50s and 60s.
Still others prefer the more physical, less emotional connection of recreational, just-for-fun sexual activity.  There is nothing wrong with recreational sex, as long as you are up front about your motivations and use safe sex strategies — having a sexual history discussion, getting tested regularly and using condoms, dams and other forms of STD (sexually transmitted disease) prevention.
Couples can engage in BOTH relational and recreational sex together. Not every encounter needs to be an emotionally-connected experience even when you are a deeply committed couple. Sometimes it's fun just to "get it on."   By recreational sex, I do NOT mean casual sex with others, hooking up, or swinging. I am recommending recreational sex with your partner.
What kind of lovemaking are you having?
Unless you're trying to conceive, chances are you are having one or the other – Relational vs. Recreational sex.
Consider this. If you are not having recreational sex with your partner, you are forfeiting a world of  additional pleasure together.
What kind of recreational sex would you like to have?
There's recreational sex that is very physical in nature, such as getting or giving a good banging (make sure you get her engorged first!)
Another form of recreational sex can include role play. Mine your mutual fantasies to come up with some ideas together.
How much of the time when you are making love to your partner are you engaged in fantasy to increase your own arousal during sex? Are your eyes closed, your mind occupied by fantasy, instead of being fully present in the relational style of sex? Chances are, this is what you and she are doing a lot anyway. So why not stoke up the fantasy machine and create scenes that you two can share to heighten your eroticism together?  Sharing fantasies can increase your intimacy, but not if you keep them inside your head. Fantasizing about someone or something else while you're supposedly making love in a relational style of sex is not as potentially empowering as sharing your fantasies and using those ideas to create a role-play sex scene that lights you both up.  Research shows that the most common kind of fantasy is when you think of someone else while you're making love with your partner. Don't take it personally, it's the way our minds work. Instead, embrace the fact that "partner-replacement fantasies" are commonplace and leverage them in your lovemaking. Bring that fantasy person to bed with you by pretending you are that person, or taking about that person while you make love together.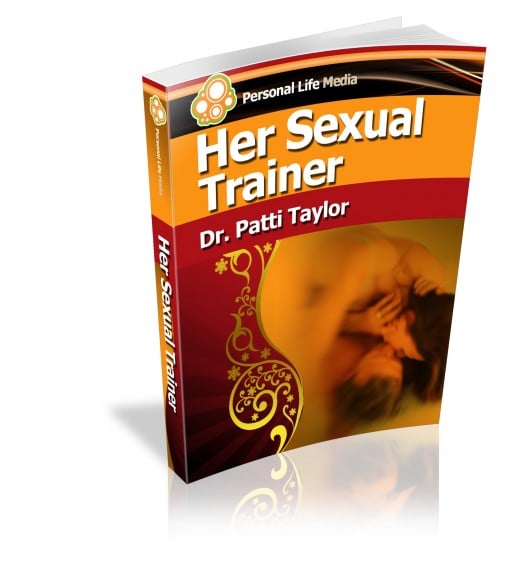 If your lady is reluctant to share her fantasies — most women have them but are not comfortable sharing them because they feel shame for their desire due to cultural programming — listen to this audiobook, "Her Sexual Trainer:  Unlock Her Most Intense Sexual Responses."   This eBook and audiobook will help you elicit her fantasies in a very safe way.
With the easy-to-learn tools in Her Sexual Trainer, you'll understand how to get her to delightfully open her vast sexual treasure-trove of fantasy desires to you. You'll do this by mastering the art of encouraging her to reveal her deepest, most secret sexual fantasies and desires, so that they may become a reality. You'll discover how to train her sexually both without her noticing that you're doing it (when that's appropriate), or with her overt and enthusiastic agreement – thus initiating a sexual training program together. Are you ready to dive into hot, meltdown sex – more and better than you ever dared hope for?
Sexual training is where it's at. As is expanding your sexual palette to include both relational and recreational sex into your love life.
This is personal growth that matures your body, mind and spirit.
There are also 3 Kinds of Sexual Mind-Sets. Knowing how you psychologically orient around sexual styles may open up a new kind of lovemaking for you.
* These are the Three Kinds of Sex according to David Schnarch, PhD, from his excellent book Passionate Marriage.
With love,
Susan Bratton