Sex Toy Paaaarty! With Jessie and Suz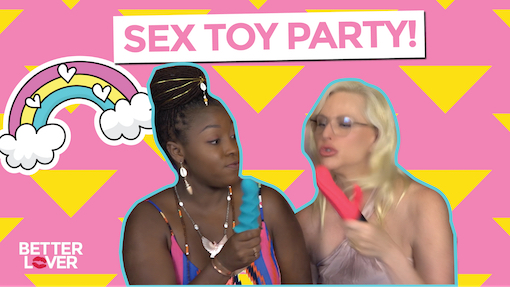 Susan is with Jessie Camille from the Pussy Party Podcast and the pussies are having a sex toy party. Today, we're going to have some fun and get in touch with our inner child. We have a coffee table full of sex toys, and Jessie will pull them up and we're going to talk about them. Cheers!
I love, love, love the adorable, sassy Jessie Camille. I was on her Pussy Party Podcast explaining Expanded Orgasm, and we became fast friends.
She visited me in California, so I got nearly all the sex toys I had in my collection to show her.
It's like Sex Toy Christmas! Wanna see what Jessie chose to take home?
This episode is one of the silliest, funniest videos I've ever made for you.
Check Out My Video Here ⇐ Susan And Jessie Camille With A Ton Of Sex Toys 
SEX TOY PARTY
We went through all kinds of toys.
There were dolphin dildos, finger toys, and vibes, male masturbators, and a bunch of his & her sex toys.
We also played with and demonstrated some penis, nipple, clitoral, and even vulva pumps.
Here are the links to all of the things we showcased:
Unlock Additional Members Only Content
Please login or register for a Free Membership to view this content.