Do You Know What PRONOIA Means?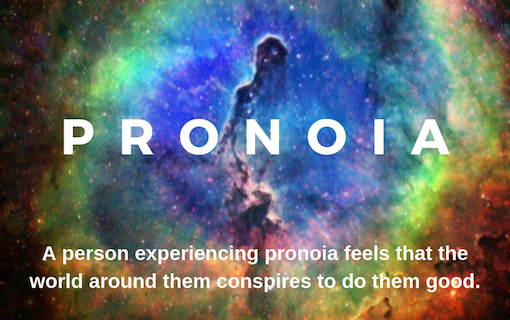 I heard a great new word recently.
"PRONOIA."
It's the opposite of paranoia.
Pronoia describes a state of mind that is the opposite of paranoia.
Whereas a person suffering from paranoia feels that persons or entities are conspiring against them, a person experiencing pronoia feels that the world around them conspires to do them good.
My girlfriend Robyn is one of those people who is a big fat YES! to life. Opportunities come her way abundantly. She is generous with others. Robyn never forgets to thank you for a great time… to leave a voicemail with an appreciation… to notice when things are going well or are fun…
I was also nominated for an Impact Award at the 2019 Mindshare Summit. The Mindshare event is focused on health and wellness healers and experts.
I was nominated in the category of Go Giver for selflessly contributing the most time and energy in support of the community.
Though I did not win, this nomination encourages me to step up even more to help the members of our group achieve even greater impact with their significant gifts.
Today I encourage you to be a yes, to be positive, to find joy, to express appreciation, to love and give freely to everyone you meet.
Uplift yourself by uplifting others.
I send my deepest appreciation for you being in my world.