The Bavarian blowjob barmaid is back once more!
And in today's video, I'm going to tell you a secret about blowjobs that will change the way you think about them.
A lot of women see giving a blowjob as a "job." Something they don't really want to do. They're just doing it because her man wants it.
But this secret I'm about to tell you turns blowjobs into blow "joys" for women.
She'll enjoy giving her man head so much more than he enjoys receiving them.
Yes, it's possible.
Click Here To Watch My Video ⇐ The Blow Job Secret
BLOW JOYS FOR YOU
You'll also discover how this secret can put a woman in such a state of desire that she will have the ability to have orgasms WHILE giving blowjobs.
You see, women have erectile tissues all over her body.
Erectile tissue that when aroused and stimulated enough brings her to a state of orgasmic bliss, just like when her clitoris or G-spot is stimulated.
Is this even possible?
I Explain Everything In My Video ⇐ The Blow Job Secret
I also want to give you another special gift.
It's all about how you can 10x your oral sex life.
Imagine your spicy sex life if both of you can learn these oral sex intensifiers. What a rush!
And I want you to have this for FREE.
Click Here To Get 10x Your Oral Sex ⇐ Link Is In The Video Description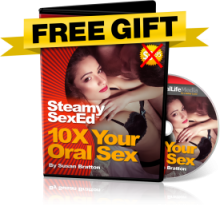 Please, I'm SOOOOOO CLOSE!!!! Can you subscribe to my Better Lover Website? It's free. You just sign up with your email.
The links I mention in the video can be found under the video. Click "SHOW MORE" on the left on your computer. Or click the little TRIANGLE on the right on your phone and it will expand to show the links and transcripts.
Check Out Your FREE Gifts Here ⇐ Link is In The Description Below The Video