Who doesn't want to be instantly hotter and sexier as a lover?
Today I'm sharing three intimacy techniques that will make you incredibly attractive to your partner or potential lovers… That is all inside you now, waiting to be released.
These three techniques will make you so magnetic and irresistible that you will draw your lover to you at an even more connected level.
These techniques transform "having sex" into "making love."
The essential ingredients for truly great sensual appeal may surprise you. 
These three techniques are the bedrock of hotness! And they are fantastic for couples who want to add more electric intimacy to their relationship.
…as well as for singles who want to stand out in an overflowing ocean of potential partners.
Doing these three intimacy techniques will make you unforgettable.
How To Be Instantly Hotter & Sexier> ⇐ Click Here To Download For FREE
In it, my gorgeous fellow sexpert Susan Bratton shares three easy ways you can instantly be more attractive, self-confident, and appealing to your partner when you're intimate with them.
When you wake up in the morning beside each other, lying in bed after a long, hard day, and when you're fooling around in the living room.
So you can experience more pleasure in your body.
And create a stronger heart-mind-body-soul connection to your lover.
The three techniques are already inside you, waiting to be unleashed.
These are just minor tweaks you can do to make yourself more undeniably attractive physically, emotionally, and sensually to your long-term partner or a potential soulmate.
You need to know how to tap into it.
INSTANT HOT PASSION
I guarantee you will love the three secrets she shares in her FREE downloadable ebook.
Susan is a champion of all the people who want more passionate relationships, and her techniques are the absolute BEST!
When she says INSTANTLY HOTTER and SEXIER, she's serious!
Enjoy the book with my compliments.
How To Be Instantly Hotter & Sexier ⇐ Download It Now For FREE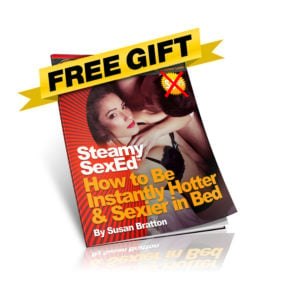 In a couple of weeks, we're going to have a SALE for our best-selling program for singles and couples who want to take their relationship intimacy to a whole new level. It's a compilation of the best sensual, heart-connected techniques Susan Bratton has encountered in her career. It can get Steamy, but it's not vulgar like porn. A woman made it for heart-connected couples who want to get intimate.
Reserve Your VIP Spot ⇐ Steamy Sex Ed® Steamy Summer SALE Is Coming! Experience Incredibly Hot Passion. (Heart-connected, sensual, passionate lovemaking videos)
You'll get a one-day advanced notice before other people so you can have a chance to consider purchasing my Steamy Sex Ed® Video Collection before all of our 60% off sale copies are snatched up.