How And Why You Should Get Off The Pill (VIDEO)
Are you on the pill?
Do you want to get off the pill but don't know other effective birth control options?
Not only is it inconvenient because you have to remember to take a pill every day, but you're essentially pumping synthetic hormones in you in order to trick your body into thinking you're pregnant…
Your body won't ovulate. Which means you won't get pregnant even when your partner ejaculates inside of you.
While that will keep you from getting pregnant, there are negative side effects that come along with it.
Dr. Jolene Brighten and I made a video for you on the many, many different, effective, non-hormonal, and SAFE birth control methods you may want to try.
Now, if you're asking why NOT to just use birth control pills, scroll down and keep reading.
Click Here To Watch Our Video ⇐ Non-Hormonal Contraception And Birth Control Methods
GET OFF THE PILL
When you're on the pill, you may experience side effects like a lack of libido, nausea, sore breasts, blood and heart problems, and more.
So many women are moving away from synthetic, hormonal birth control pills and moving to more natural, healthier, non-hormonal methods…
We talk about these methods, like the Fertility Awareness Method (FAM), rhythm method, and many more in our video.
Click Here To Watch It ⇐ Non-Hormonal Birth Control Options With Dr. Jolene Brighten (Link In The Video Description)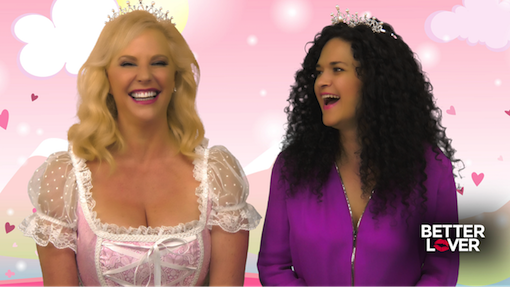 If you're interested in getting off the pill…
Dr. Jolene has a wonderful program that will help you each step of the way so you won't feel like you're doing it alone and rushing things.
Unlock Additional Members Only Content
Please login or register for a Free Membership to view this content.
⇐ Birth Control Hormone Reset
And if you're interested in similar topics like sexual health, lovemaking and communication techniques, check out my FREE Female Empowerment Newsletter.
Subscribe To My Female Empowerment Newsletter ⇐ Explore Your Sexuality And Sensuality (Link Is In The Video Description)
Please, I need you to subscribe to my Better Lover YouTube Channel. It's free. You just sign up with your email. Subscribing sends the signal to YouTube that my videos are valuable and helps me grow. I really appreciate it.


The links I mention in the video can be found under the video. Click "SHOW MORE" on the left on your computer. Or click the little TRIANGLE on the right on your phone and it will expand to show the links and transcript.
Click Here To Watch It ⇐ Non-Hormonal Birth Control Options With Dr. Jolene Brighten (Link In The Video Description)
Subscribe To My Female Empowerment Newsletter ⇐ Explore Your Sexuality And Sensuality (Link Is In The Video Description)