Arm yourself with the most potent sex technique a man could ever have. Get this for phenomenal sex. Learn all about the nirvana sex position.
If you want to stay inside your lover and have prolonged, leisurely love-making… This technique is for you!
You're now on the verge of your 5th full-body energy orgasm. You haven't ejaculated, but you are orgasming. It turns her on so much that she's now on her 7th intense orgasm from you being inside her. You have the energy to keep going, but she's almost about to pass out from all the pleasure. She's begging for you to come with her for one last time tonight — the final, simultaneous orgasm where you explode inside her as she has her final orgasm. You brace for it, and she's so close, it's going to be, wait for it, legendary.
The 87% OFF Multi-Orgasmic SALE Ends February 28th ⇐ Gives You More Stamina, Triggers A Woman's Vaginal Orgasms, And Lets You Have Male Multiple Orgasms.
Have you tried the Stamina Sex Positions I showed you in the last two days? When you master it, you can be a guy who has multiple, full-body energy orgasms without ejaculating, which allows you to last as long as she wants and get her more turned on than you thought possible. She gets to see you coming over and over, which triggers HER orgasms.
While you learn the ME Breath for unlimited stamina, you can practice using these stamina sex positions.
Here's another one for you!
Check out the Nirvana ⇐ Combine With The ME Breath For Phenomenal Sex 87% OFF SALE Ends Soon!
The reason the traditional missionary position is NOT good for stamina is twofold:
1) The entire penis shaft is stimulated from the back to the front. That means you're getting closer and closer to ejaculation with every thrust.
2) On the flip side, neither the clitoris nor g-spot is stimulated because you're just moving in and out.
That means you're heading towards ejaculation QUICKLY while she's moving towards orgasm SLOWLY.
Instead, Try Out This NEW Position ⇐ Use The Nirvana Sex Position With Her Tonight
THE NIRVANA SEX POSITION
When you practice these Stamina Sex Positions, you can also apply Jim Benson's ME Breath Technique with your thrusts.
So that not only will you have more sexual stamina, you'll also give her penetration orgasms and get to have multiple orgasms of your own.
The ME Breath is a 3-step "Control" technique.
It combines three powerful techniques that give you Muscle Control, Arousal Control, and Pelvic Relaxation.
It sounds like a lot, but it's a fluid experience.
You won't even have to think about it when you're doing it to her.
The ME Breath works "automatically," like accelerating and braking while driving a car.
Together they give you the sexual ability to become the phenomenal lover you crave to be.
And, of course, have some scorching sex.
Last All Night With The Nirvana ⇐ Use The Nirvana Sex Position With The ME Breath Tonight 87% OFF SALE Ends Soon!
The "ME Breath" 87% OFF SALE   ⇐ Gives You More Stamina, Triggers A Woman's Vaginal Orgasms, And Lets You Have Male Multiple Orgasms.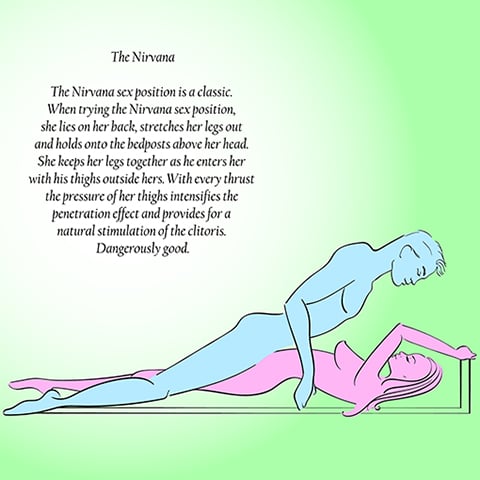 More men raving about the ME Breath:

"I don't hide my agenda now. That turns her on. I used to think I had to start banging her. Now there's more playtime, more foreplay… more pleasure."

"She loves it. I last so much longer. Lasting is a non-issue now. Getting rid of that shame, even if I do come too fast every once in a while, naturally makes me last longer."

"The biggest thing that changed for me was my confidence. Instead of being passive, I'm pursuing sexual situations."

"I had a deep-seated fear that I was not big enough to fill a woman up and therefore couldn't give her vaginal orgasms. Your ME Breath Technique gave me the confidence to try again and voila! Sexcess!"
Do Her All Night Long With These Techniques ⇐ Stamina Sex Positions + The Me Breath 87% OFF SALE Ends Soon!
The "ME Breath" 87% OFF SALE HURRY! ⇐ Gives You More Stamina, Triggers A Woman's Vaginal Orgasms, And Lets You Have Male Multiple Orgasms