You lightly brush your fingers across the back of your partner's neck. They sigh as you melt into each other's arms. A flurry of positive emotions comes up as you fall deeper and deeper into each other's loving warmth… your arms intertwine as you flow effortlessly into hours of romance.
"Touch Techniques are counted in the 'Top 5 Most Desired Partner Skills' by both men and women according to my newest survey."
Our bodies have cells that are called proprioceptive cells. Proprioception is one of your senses like touch, taste, and smell. Consider it your 7th sense.
TOUCH HERE
These cells on the outside of your skin allow you to know where your body is in space. Figure skaters, dart players, and gymnasts all frequently leverage their proprioception sense.  And it's what keeps us from falling!
When you stroke these cells, you activate a person's sense of feeling all over their body.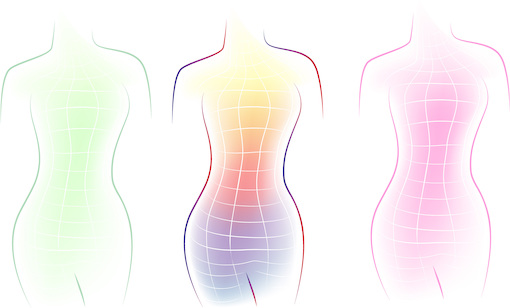 When you stroke their body all over, you spread the pleasure energy.
One of my favorite ways to spark chemistry in relationships is to "touch" my partner all over their body with smooth, long strokes to awaken their "sensual grid."
Some of the hottest spots that elicit feelings of connection when touched are bare to the public every day.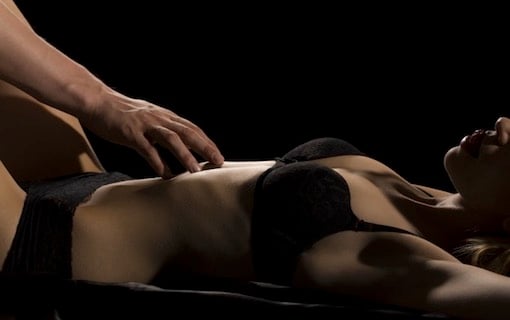 TOUCH FOR PASSION TECHNIQUE
A gentle stroke with the back of your finger across your lover's face… A smoothing of their hair… A firm hand on the back of their neck as you hold them close…
Wrapping your arms around your partner and stroking the small of their back…
Circling their wrists with your fingers and squeezing gently…
Holding their hand and pumping it with slight squeezes…
Those last two are even Taoist energy practices!
WORK ON EACH OTHER
Even better, teach your partner how to touch you. Everyone likes different touch styles and places to be touched. People have touch preferences.
Slowly escalate their pleasure by starting at the extremities… head, hands, feet, arms, legs… before moving inward.
Every time you learn new bedroom skills, your sex life improves.
Though you may have only been introduced to me recently, I've been a trusted relationship advisor to millions of people worldwide for over a decade.
I hope you'll consider checking out my Steamy Sex Ed® Video Collection when it goes on sale very soon.
With over 200 intimacy techniques, there are entire sections of the videos devoted to touch techniques.  And according to a recent survey I did, Touch Techniques are counted in the Top 5 Most Desired Partner Skills by both men and women.
When you get on my VIP list, you get one day's advance access to see for yourself how wonderful it is to learn new ways to increase your intimacy and connection.
Best of all, these videos teach guys how to slow the heck down and become romantic.
I appreciate your trust in me. Email me anytime with questions.
Steamy Sex Ed Ear­ly Noti­fi­ca­tion ⇐ Expe­ri­ence Incred­i­bly Hot Pas­sion. Get On The VIP List (Heart-con­nect­ed, sen­su­al, pas­sion­ate love­mak­ing videos)
You'll get one-day advance notice before other people so you can have a chance to consider purchasing my Steamy Sex Ed® Video Collection before other customers snatch up all of our 60% off sale copies.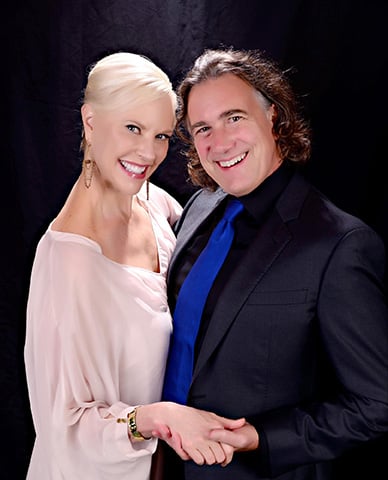 Here's a little bonus technique… See how much there is to know?
The "Two-Option Leading" Technique:
You can create a touch portfolio. Some lovers like long slow, sensual touches. Other lovers enjoy faster, shorter, more rapid strokes.
It's enjoyable to use a technique I call "Two-Option Leading." In Two-Option Leading, instead of touching a person by saying, "Do you like this?" "Does this feel good?"
Say this instead: "Do you like this (and do a stroke) or this (and do a different stroke). Find out what your lover prefers in this lovemaking session.
Instead of asking for feedback on one type of touch, you offer the choice because you don't want your lover THINKING; you want them to feel. Making a choice requires less thought. Keep your lover in their body and out of their mind with pleasure!
Caution: Just because your partner liked a specific stroke over another at that moment doesn't mean you should only use the preferred touch forever…
That's just the stroke they like TODAY.
Every day is a new day, especially for women.
Don't get stuck in a rut. Keep trying "Two-Option Leading," which is just giving your partner two choices, so you begin to get a wide range of touches they particularly enjoy.
Steamy Sex Ed Ear­ly Noti­fi­ca­tion ⇐ Expe­ri­ence Incred­i­bly Hot Pas­sion. Get On The VIP List (Heart-con­nect­ed, sen­su­al, pas­sion­ate love­mak­ing videos)
Clicking on the VIP List is free. You are not obligated to purchase. This gives you one-day advance access to view our video trailers, sample sizzle reels, and learn all about this video collection.
By clicking and putting yourself on the VIP list, you get an email from me one day before the general sale starts. Because this is a 60% discount, we always sell out of copies during our sales.
Getting on the VIP list means you get to decide for yourself that you want this as a gift for you or your lover before all the copies are gone.
Steamy Sex Ed Ear­ly Noti­fi­ca­tion ⇐ Expe­ri­ence Incred­i­bly Hot Pas­sion. Get On The VIP List (Heart-con­nect­ed, sen­su­al, pas­sion­ate love­mak­ing videos)