Circulating your sexual energy for longer, more pleasurable slow sex sessions.
Every human is multi-orgasmic. Yes, men too! All it takes is education and practice.
Watch this video discussion where Adam Gilad and I divulge secrets about sexual energy, sexual healing and reversing genital atrophy.
– Pump and lubricate your genitals so they are able to go longer and give you more pleasure.
– Boost your flow of hormones, pheromones and endorphins.
– Especially for women, release emotional trauma from your genitals to heal your sexual self.
– Un-shrivel your penis and vagina and reverse atrophy through sensual massage techniques.
THE FLOW OF PLEASURE
When you can spread your climactic energy around your body to keep lasting longer and feeling more pleasure you have become sexual superheroes.
Multi-Orgasmic Sexual Fitness <=== It's all available to you here.
At 6:35:48 I talk about dancing from technique to technique that allows you to be in orgasmic bliss the entire time you are making love (and giving oral)… except for a few breaks to catch your breath and have a gulp of water and smile widely at each other before diving back into each others' deliciousness.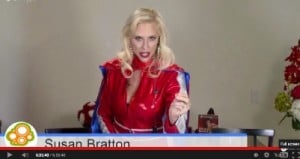 SEXUAL SUPERHERO
You'll carry yourself differently because you know you have skills that few people possess.
Sexual Superpowers <=== Get Your Cape Ready!
Watch, Learn and Soar To New Heights of Ecstasy,
Susan
P.S. When you watch this video, make sure you click the button BELOW the video on this page to visit the Steamy Sex Ed Collection website. There is another video of me and two video samplers of the program.