Make him see stars! "Butt Luv"
Have you heard about this notion of "milking" a man's prostate? Most men are a little skittish about having their prostate area touched until they understand that when you stroke this erectile tissue from outside or inside adds another dimension of incredible pleasure to their climax.
The prostate is also an area of sexual healing. So learning how to give and receive stimulation in this area is very delicate at first but extremely healing and pleasurable.
Scroll down to see how a guy can ejaculate with skyrockets and starbursts. Starbursts I tell you!
SEX. It's Never Too Late To Learn Something New Together
Last night I snuggled up in bed with my man and watched the "Butt Luv" DVD from our Steamy Sex Ed DVD Collection. (As I write this to you there are only 126 DVD sets left for purchase. So get one NOW if you want one.)
There are sections of the 8 episode collection that show you how to give exquisite anal pleasure to men (includes milking of the prostate) and to women (G Spot through the rosebud). It also includes an erogenous massage of the derriere… that I WANT NOW.
Baby! Get Your Copy Before Its TOO LATE <=== We Will Sell Out – Only 126 Copies Left
Hey, this is not an anal intercourse video — it doesn't show you how to penetrate her with your member.
Instead it's all the sensual touch techniques that awaken and enliven her derriere (and your butt too.) So if you want to, in the future, you CAN go all the way in. (when she gets turned on enough, she will invite you in)
First a beautiful woman (a sexy and well educated sexpert) demonstrates all kinds of warm up anal touch techniques such as:
– A long luscious stroke between your cheeks with massage oil to warm you up
– Twiddling thumbs in a rhythmic motion on your rosebud
– A butterfly wavy motion with the outside edge of your hand between her cheeks
– Pulling your fingers apart simultaneously over her rosebud
It's very sweet how the couples connect. (There are two handsome couples demonstrating different strokes in two butt luv sessions.)
When I watched how the women massaged the men there were two aspects I appreciated most:
1) Seeing exactly how to slowly work up to massaging the prostate about an inch inside and
2) Milking a man's prostate by stroking up inside while fondling the shaft of his member
It looks like it feels heavenly.
My honey says his favorite aspects of this DVD (one of eight in the collection) are: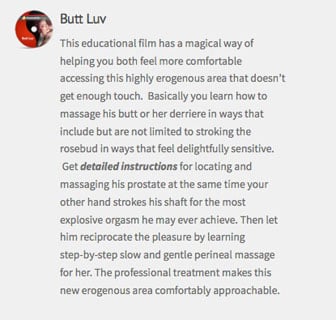 1) It's rejection proof because you're not just shoving your finger there – you learn how to ramp her arousal.
2) She will be willing to let you enliven her sweet butt when you memorize what you're watching so you'll know exactly what to do if she's never experienced anal pleasuring before.
He called it an "anal sex blueprint."
For both of us, it gave us the confidence that comes from knowing exactly what to do.
Pleasurable anal experiences are all about the warm up – the smooth and easy strokes – and how to get the finger out once you've eased it in.
Turns out there's easy and "right" way to remove your finger too.
This film is a great way to introduce anal play to your lover and is perfect for watching together.
Sensual Instruction Is Crucial For New Experiences,
Susan
P.S. Our Steamy Sex Ed Collection is almost sold out. Only 126 copies are available to ship in a plain white box now. If you wait you are not guaranteed to get a copy because supplies are limited.
Baby! Get Your Copy Before Its TOO LATE <=== We Will Sell Out – Only 126 Copies Left
Get it in time to binge watch and have marathon lovemaking.
These videos are better than a set of defibrillator paddles for your sex life.