Here's a post on our website from Holly who says,
"My husband doesn't have any interest anymore. I tried to tell him what I need and he is just not responding. Our problem is related to masculine/feminine issues."
Read what Chas August, Sex, Love and Intimacy coach at Personal Life Media has to offer:

Dear Holly,
My name is Chas August. I'm a coach with the PersonalLifeMedia Coaching Program and I'd like to respond to your comment on the post "Moving Her Toward Her Sexual Potential"
I'm so sorry to hear that your husband no longer seems to have any interest in being sexual with you. I know how frustrating and painful being sexually ignored can feel. You write that your "problem is related to masculine / feminine issues," but I really don't know what that means.
What I do know is that often, in long term committed relationships, instead of growing more and more intimate over time, the opposite seems to occur. I believe this is in large part due to secrets we keep, thoughts we are afraid to share, feeling bad about ourselves and then wanting to hide these feelings from our partner, and so much more.
It's as if, each time we think something about our partner or our relationship – a doubt, a concern, a fear, a dislike – it's as if we are placing a small stone or rock between us. In a short while those little stones start to form a wall. And after years of adding to it, that wall becomes seemingly insurmountable.
Healthy sex is, by it's very nature, an act of intimacy. And that wall makes intimacy almost impossible.
And now for the good news (yes, there is good news)…any walls we build, we can also tear down – with some simple skills and our intention. Here is one simple thing you can do to begin to undermine that wall you both built. Every day tell your partner one thing you love, like or appreciate about him. One appreciation per day, every day. Do this every day for 30 days and I'll bet you'll notice a change in him…and you.
Want more help, I strongly encourage you to look into our coaching program. I think with a little help and support you'll be tearing down that wall in practically no time.
Warmly
Chas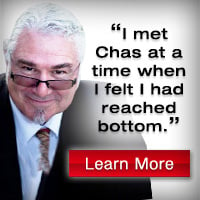 Life, Intimacy & Relationship Coach
http://best.personallifemedia.com/guaranteed/
Email: [email protected]
"Live as if you were to die tomorrow. Learn as if you were to live forever." – Mahatma Gandhi