Tell the truth: have you ever muttered these words about your husband?
"He just doesn't understand what the $%*! I want!"
BUSY HUSBAND'S CHEAT SHEET
What if you could hand your honey a checklist of the things you most want, need, and desire?
Everybody has their list.
Yours is as unique as a snowflake.
Without mind-reading superpowers how can he totally satisfy you?
Give Him Mind Reading Super Powers <=== Watch This Video NOW! 🙂
My publisher, dear friend and relationship expert Susan Bratton confessed to me:
"11 years in, my marriage with my husband Tim was on the brink of collapse. We were having pointless arguments, our sex life was on the rocks, and the whole marriage felt like a LOT of work, and NO Fun.  Worst of all, I didn't want our beautiful daughter to come from a broken household. I was desperate."
That's how Susan discovered a powerful tool, in fact, a "magic question" that turned her marriage around. Now, 12 years later, she and Tim are the poster children for a passionate relationship.
She's the "real deal." She's even been called, "The Marriage Magician" on TV. ABC, CBS, NBC, CW, Fox… you name it. She's famous for this "magic question" that is so powerful I knew I had to share it with you.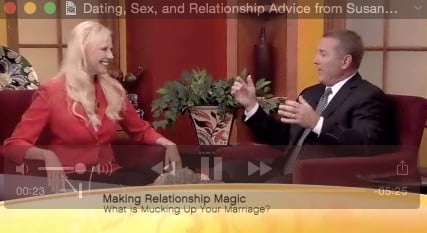 The "1 Magic Question" <=== What You Want MOST From Your Husband
Watch this video about the "magic question" that unlocks the deepest, most intimate, satisfying married life you've been craving.
Excited for you to see this!
In the video, Susan explains why "The Golden Rule" — do unto others as you'd have them do unto you — is totally mucking up your marriage!
"Is The Golden Rule Mucking Up YOUR Marriage?" <=== Watch Short Video For Answer