"What is the fastest way to find a nice girlfriend?"
"I never knew what I should talk about with women. And when I'd finally get to the dating point, she'd end up not being the person I thought she would be."
How To KNOW If She'd Make A Great Girlfriend
My friend Susan Bratton has "1 magic question" you can ask yourself to know if a girl has the potential to be a really good girlfriend for you.
FIND A GREAT GIRL
She has discovered how to know what makes a girl perfect for you… even as a potential wife.
In Susan's video, she shares the push-button answer to one of life's most difficult questions…
"How can I have my ideal relationship (and avoid a broken heart)?"
Discover what you want MOST from a girlfriend. <=== You can watch her video to find out.
I HIGHLY recommend you watch this video for three reasons:
First, Susan is famous in the field of passionate relationships. She's been all over TV — every big network — including CBS, NBC, ABC, CW and Fox.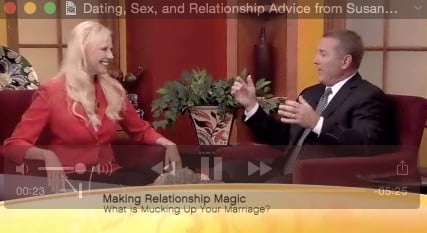 Second, she's personally coached hundreds of men over the last 10 years on intimacy techniques. Over a quarter of a million people seek advice from her website every month. And more than 100,000 men and women read her email newsletter every week.
So you know she wouldn't make these promises unless she could back them up.
Third Susan's video is just plain entertaining. After all, she's going to give you mind reading superpowers. 😉
If you're like most people, you aren't sure how to tell if a girl has the ability to make you deliriously happy or being with her would be a living, breathing hell every day.
How To Video: Know If She's The ONE <== Short and Sweet
So do yourself a favor. . . take a minute right now and give Susan a fair hearing. You'll be glad you did.
Guys want their girl to leap into their arms, squeeze her legs tight around their waist, and pepper them with kisses.
The "1 Magic Question" <== What You Want MOST
Uncover the one magic question that makes your relationship picture perfect.
To Your Perfect 10!