In his seminal book, Why Men Fake It  Dr. Abraham Morgantaler says that if a man comes to see him with poor erections and low testosterone, he tries the testosterone therapy first, rather than the little blue pill kind of medication.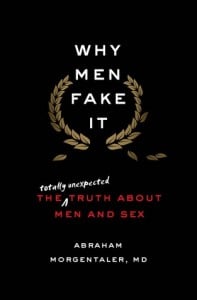 Abe says, when it works, the man feels whole. His erections are better, and he often feels better in many other ways too.
Most importantly, it helps if a man doesn't have to take a pill every time he wants to make love to his woman.
What I found most interesting, was a research study from Taiwan where the effect of testosterone supplementation was studied in 32 men who couldn't have erections strong enough to go inside their partner during sex, despite a full dose (100 mg) of the blue pill.
These men were given testosterone for two months and asked to try to have penetrative sex without the pill.
If they were still not able to penetrate their lover at the end of two months, then they were instructed to take the blue pill in addition to their testosterone.
At the end of the study, one third of the men were able to have intercourse just with testosterone supplementation.
Another third were able to penetrate with a combination of testosterone and the blue pill.
The remaining one third were still not able to have penetrative intercourse.
As Dr. Abe says, testosterone can be a treatment for ED if levels are low, and it can also improve how well the little blue pill works in many men.
So instead of turning to pills first, consider a three month testosterone treatment.
And if you're having any erectile issues, start an Expanded Lovemaking practice with your partner. While you're working on your supplementation, you can fill your woman up with orgasms using this clitoral stroking technique Dr. Patti teaches in Expand Her Orgasm Tonight: 21 Erotic Play Dates For Partners.
You can achieve the satisfaction of making your women come for 5, 10, 30 minutes with this Expanded Orgasm technique the requires only your bare hands and a desire to pleasure her.