Susan Bratton
"Susan teaches men how to pleasure women

in a way that deepens a couple's intimacy and passion."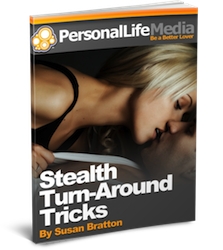 Join Susan's List And Get "Stealth Turn Around Tricks" Free
Your Email is safe | Cancel Anytime
No Credit Card Required | Weekly Digest Option
You will get emails from us about techniques and skills, our programs, our affiliate partner's programs, book reviews, and exclusive discounts when you subscribe.
Like Me on Facebook
Follow Me on Twitter
Revive Her Drive Blog
+Susan Bratton
"Firstly I am so impressed with you and your level of support. It is just the real difference in your program to anything else I have ever purchased.

Secondly, my partner texted me at work yesterday to tell me how much she wanted me!! That hadn't happened for a long time.

I took my time enjoyed every level of love making.  As you taught me, I didn't focus on the outcome (a big mistake of mine in the past). While not at the two-hour plus level you're at, I was delighted with 1.5 hours of lovemaking. Plus the sexy and loving messages today I have been getting from my partner. Feel we are turning a corner. 

I know you help thousands of men like myself. I wanted to write as I feel you have been in my corner and coached me to get to where the life I crave seems possible and not a dream. 

So many thanks, Susan." — Kind Regards, Stephen
Susan Bratton is an advocate for all men who seek to be better lovers — to lead their woman to her sensual potential. She fervently believes great personal growth can come from informed sexual maturation and is focused on taking the shame out of desire for intimate physical connection.
Bratton is co-founder and CEO of Personal Life Media, an online publishing company specializing in heart-centered adult sexual education home study programs. She knows there's a smoldering vixen underneath your woman's bathrobe… if you just know what to do to make it safe for her to come out to play.
Susan is an award-winning speaker and internationally-renowned author of over 1,000 articles on intimacy. She is the creator of the highly-acclaimed Revive Her Drive program — a self-paced home study course for men all over the world who want to bring passion back to their relationship. She is also the author of 30 Romance Tricks That Work Like Magic among many other books and courses. Susan has been featured media outlets as wide-ranging as the New York Times, CNBC and Playboy Radio.
Susan works with her techno-inventor husband, Tim, providing online home study programs for men and couples who want more intimacy and passion. They reside, along with their daughter, dog, cat, horse, surfboards and mountain bikes, in Mill Valley, California – a hotbed of the human potential movement.
An innovator and change-maker, Susan champions men's rights for shame-free sexuality and creates tools and techniques that help men open intimately to their partners for more passion.
She comes to this calling from her own personal struggles.
"I was a late-bloomer sexually and didn't understand until my mid-forties what all the hoopla was about. There was no looking back after Tim and I took our first intimacy workshop and we realized that deep and passionate intimacy with our partner is most important thing we can have in our lives after our good health and the love of family and friends. I made it my mission to have a company where anyone in the world who was a seeker could learn how to love deeply, connect intimately and have sex passionately by learning how on an online home study course."
Luckily, her husband Tim Bratton, a Silicon Valley technology inventor, stood by her side and together they've created this company and these programs to serve couples around the globe in bringing the joy of intimacy to the lives of their women.
Susan Authored These Titles:
Revive Her Drive
30 Romance Tricks That Work Like Magic
Is Her Sex Drive Repairable? The BlueBall Diaries
Relationship Values Workbook™
Stealth Seduction Turn-Around Tricks
21 Deadly Mistakes Men Make That Destroy Her Arousal
Roadmap to Romance (coming soon)
"I was skeptical and now I'm fully convinced of your sincerity and desire to help others. I've been blown away by so many of things you've had to say in general about living a more fulfilled life. Thank You." — Bob S.
Susan Publishes These Titles With Her Hand-Picked Experts:
Seduce Her Tonight and The Seduction Accelerator
Be Her Sexual Trainer
Sensual Texting Made Easy
Keep Her Coming
Expand Her Orgasm Tonight
Female Liquid Orgasm
Squirt Your Heart Out
Female Genitalia: Anatomy and Engorgement
"All the core knowledge — things nobody ever taught you but should have — that you need to have a deeply intimate and very passionate sexual relationship with your partner."
Our mission is to give men the tools to lead their woman into passion and intimacy that keeps getting better and better (instead of more boring and less frequent sex, which is most common).
This is an overview of our perspective on better sex and what a man might put his attention on if he wants to lead his woman to her sexual potential.
We call this the "Upward Pleasure Spiral." Once you know these fun and life-enriching techniques, your sex life becomes a self-fulfilling prophecy, it just naturally builds on itself, getting better and better, when you get the foundation in place.
These concepts can evolve a vanilla relationship to one of outrageous erotic adventure and ONEness with your lover.
"You impress me so much with your ability to describe such a variety of exquisite erotic sensations so eloquently and precisely and appreciatively for us men. I think your calling is to be a connoisseur of the erotic female experience. The ability you have developed to feel so much and so articulately describe its shades and contours is something amazing to behold." — Tony, Campbell, CA
FUNDAMENTALS
How DESIRE works.
The 5 keys to a passionate relationship.
The 8 steps to reclaim passion if it's degraded within an existing relationship.
CORE CONCEPTS
Our "core concepts" are the foundation of our teachings that accelerate all of our programs.*
There are two categories of core concepts a man must have to gain momentum in the joy he gets with his partner from sexual intimacy:
1) Communication Skills
2) Advanced Sexual Mastery Techniques
COMMUNICATION SKILLS
The Four Keys to Seduction: Small Offers, Vision, Erotic Vigilance and Vulnerability
Reporting In From My Animal
Sharing Frames
Thank You – A Simple, Explosive Technique
Sandbox Dates and Training Her Sexually
ADVANCED SEXUAL MASTERY TECHNIQUES
Polarity
Anatomy and Engorgement
Touching For Rapture
Female Multiple Orgasm Fundamentals
Expanded Orgasm Technique
Female Liquid Orgasm Technique
"You are the new standard bearer for making sexuality a relaxing, common topic." — David, Sebastopol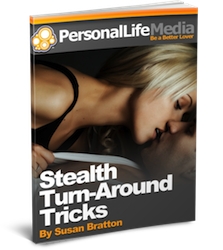 Join Susan's List And Get "Stealth Turn Around Tricks" Free
Your Email is safe | Cancel Anytime
No Credit Card Required | Weekly Digest Option
You will get emails from us about techniques and skills, our programs, our affiliate partner's programs, book reviews, and exclusive discounts when you subscribe.