Unexpected Sexy Plot Twist!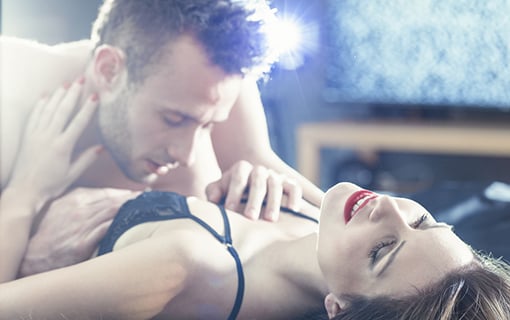 An unexpected, surprising plot twist just happened.
And it's for YOUR gain!
Maybe you were out of town….
Or still on the fence and now regret not watching our Steamy Sex Ed® Video Collection for the 30 day trial period…
However, if you're kicking yourself because you really did want to take advantage of 200 advanced lovemaking techniques on video during our sale last week, but didn't make the cut-off… you still have a shot.
But only until these 12 copies are gone.
Here's what happened…
As you know, the last week has been CRAZY for me with the 60% Off FLASH SALE of our super sexy erotic massage, oral pleasuring, intercourse techniques and erotic sex position training videos…
(SIDE NOTE: The customers who got the Steamy Sex Ed® DVDs cannot stop RAVING about them! It's been so much fun hearing about all of the really hot sex they are having.)
Anyway… we sold out of all 500 DVDs and closed the order page.
HOWEVER… this morning our Customer Care manager went through the orders and as is typical, some of the credit cards people used had been DECLINED.
So we have 12 people who are unfortunately unable to take possession of their copy of the Steamy Sex Ed® DVDs.
Which means that one of THEIR copies can now be YOURS.
And we will still honor the 60% off Sale price for you, including making the EZ Pay available too.
Get Steamy Sex Ed® at 60% Off ⇐ 12 Copies Left (Their Loss — Your GAIN!)
But remember – you have to be one of the FIRST 12 to place your order… and you have to do it before someone else gets to the order page. Because I'm letting everyone know and I have a lot of fans.
After that… it will be gone until we print more DVDs and offer it again, which will be many months from now or maybe next year before we have a 60% off sale. Remember, the Steamy Sex Ed Video Collection is EIGHT full-length sensual instructional videos normally priced at $520.
So you have to HURRY…
…Or you'll miss out AGAIN !!!
I expect these 12 lucky people will soon be getting a lot more offers for sex. Hehe.
Why are you still even reading this? The clock is ticking!
Go HERE to get the Steamy Sex Ed®Video Collection:
If you have ANY questions at all, or need any help, just email support. We are here to support you. ♥️