Sensual Healing Massage Techniques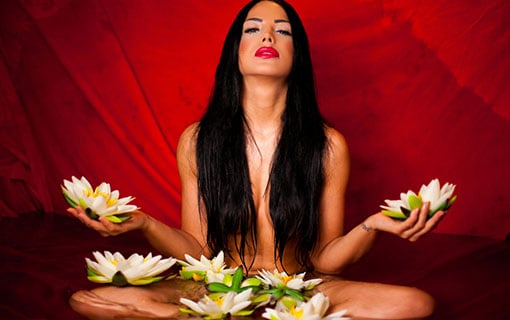 When a person receives well-done, heart-connected sensual genital massages, they can overcome past traumas and release pent up emotions. This technique also helps with women with birthing scars and men with penile shame and broken shafts.
Get On The VIP List ⇐ One Day Advanced Access To Sensual, Passionate Lovemaking Techniques You've Never Seen Before (Going on SALE 60% Off Discount — Limited Time Only!)
You'll get one-day advanced notice before other people so you can have a chance to consider purchasing my Steamy Sex Ed® Video Collection before all of our 60% off sale copies are snatched up.
Though we've just met through my Sexual Soulmate Pact free download, I wanted to give you another god and goddess lover's technique.
Because more people than you realize have suffered some kind of sexual shame or abuse, a great way to cleanse negative emotional energy from your womb or penis is through genital massage.
Sensual healing opens you up to become vulnerable to your lover during lovemaking.
Shame and hurt, trauma and repression block our neural and emotional pathways to peak passion and pleasure.
SENSUAL AND EMOTIONAL CLEANSING AND HEALING
Watch my Steamy videos to overcome or help your partner overcome past trauma… things like being shamed about your sensuality, growing up in a repressed environment, being made to feel bad about your body, being abused… really anything that has shut you or your partner down can be healed.
Get On The VIP List ⇐ Get Steamy Sex Ed® And Have Boundless Passion In Your Relationship And Love Life
"We have often talked about things we would like to do together but not really felt confident to try them. What if they didn't work? What if we didn't know how? Watching Steamy Sex Ed® videos has lessened the risk and given us the space to try these things."
SENSUAL HEALING MASSAGE
You two can open each other to more healing and pleasure.
We humans hold all of our past emotions in our body…
Any negative emotion can get stored in your pelvis… as well as in other places such as your sternum, your lower back, your jaw…
And what's great is that you can put the past behind you and heal yourself or your lover with this kind of massage.
Sensual healing and heart-opening through sacred spot massage is one of the most beautiful experiences a couple can share.
But it's best to follow along with my videos before trying this on our own. Getting a lesson or two first will make a huge difference in the effect you have. There is an art to sexual healing massage.
If you want MORE information about sexual healing and sacred spot… If you want to receive a sacred spot healing massage, you can learn by watching my best-selling program called Steamy Sex Ed® Video Collection.
Get On The VIP List ⇐ Get Steamy Sex Ed® Ahead Of Everyone Else (Going On Sale Next Week 60% OFF Discount!)
"We learned from Steamy Sex Ed® how glorious and profoundly intimate touching is – to the extent that it transforms sex into something magical that transcends just the physical aspect of it."
The Steamy Sex Ed® Video Collection is available in HD digital streaming and download as well as physical DVD's. However, there will only be a limited number of copies. And we usually sell out days before the sale ends. So I suggest you sign up for the VIP list to get your copy before everybody else gets the chance to order theirs.
I only print 500 at a time because the inventory carrying costs are high.
So if you want to be at the head of the line, in front of everybody else who can't wait to get a taste of Steamy Sex Ed®, get on the VIP List today!
Steamy Sex Ed® Video Collection VIP List ⇐ Jump To The Head of the Line!
(We will sell out! Get on the VIP List to get one day advanced notice before the crowds buy everything and you can't get a copy. This 60% Off "Flash Of Passion" SALE Ends 6/26/17 or sooner if we run out of copies. There are only 500 DVDs available for purchase at this sale price. Digital-Only option is available. Get on the VIP List.)
Because you're one of my readers, I want you to have first dibs.
Go ahead and take one second to click and press enter to get on the VIP List now.