Click Here to get on the  Steamy Sex Ed® Video Collection FLASH Sale VIP List Now.
To be lost and engulfed in fiery sexual passion. To surrender to each other's raw, animalistic desires. When you get lost with your lover during sex, time melts and all you feel is pleasure…
If you want  exquisitely hot, universe-imploding sex you've gotta be a master at turning the pleasure level up to 11 and beyond.
And that's where knowing a variety of passionate techniques comes in.
If you want to give your lover that unique drowning-in-passion sensation each time you have sex…
Get On The VIP List ⇐ The Steamy Sex Ed® Video Collection Will Be ON SALE 60% OFF Very Soon For 4 Days Only
You'll get one-day advanced notice before other people so you can have a chance to consider purchasing my Steamy Sex Ed® Video Collection before all of our 60% off sale copies are snatched up by other men who KNOW they want to add more hot sex techniques to their skill set.
Here is a complimentary oral pleasuring technique, just one of more than 200 unique sensual methods in the  Steamy Sex Ed® Video Collection (digital version will also be available).
CLITORAL BOUNCY HOUSE TECHNIQUE
This is how I want my lover to lick me.
After you've kissed all around the outside of my vulva, and slowly sucked and licked my outer labia, my mons and then my inner labia and I'm straining to get you to lick my clitoris, do this:
First gently suckle my clit in your mouth. Don't over-suck.
Too much pressure doesn't feel good. I want a lover, not a vacuum cleaner.
While you are holding my clit in between your lips, bounce your head up and down as if my mons and lips are a trampoline.
Pretend my vulva is a bouncy house and you're jumping my clit in it with your mouth.
Do 3-5 bounces which pull my clit stalk away from my body.
Then release my clitoris.
Stick out your tongue.
Lick across the labia and clit quickly with a back and forth motion like you're shaking your head, "no."
Repeat.
Sometimes I want my man to give more pressure with his licks, sometimes I want him a little more gentle. Sometimes I want it fast. Sometimes I want it slow.
When you're doing this to your lover, make sure you communicate and ask her how she wants it.
This fun Clit Bouncy House Technique is just one of a myriad of methods you'll get to watch together when your Steamy Sex Ed® Video Collection arrives!
Get On The VIP List ⇐ If She Ain't Poppin', It's Not Hoppin' (Steamy Sex Ed® Is Going On SALE Very Soon For 4 Days ONLY, Don't Miss Out)
Take It To 11, Here's a sweet note from a Steamy customer:
"Hi Steamy Gals!

I must say that I enjoyed the Bouncy House quite a bit. But my favourite is a "leltin." My husband did this by just being playful at the end of a clitoral kiss. He blew on me, like one would blow on the tummy of a baby. The the feeling of his vibrating lips against the clitoris, and surrounding area, is quite amazing! Try this, and see for yourself.

Regards,
Penelope"
Get On The VIP List ⇐ Be A Master At Passionate Sex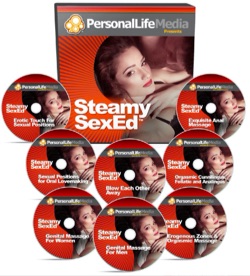 I'm only printing 200 for this FLASH SALE this time because the inventory carrying costs are high.
And each time I put them on sale for 60% off, I sell totally and completely out… often before the sale is even over.
So if you want to be at the head of the line, in front of everybody else who can't wait to get a taste of Steamy Sex Ed®, get on the VIP List today!
Steamy Sex Ed® Video Collection VIP List ⇐ Jump To The Head of the Line!