Body-Melting Passion Techniques That Remove Her Performance Anxiety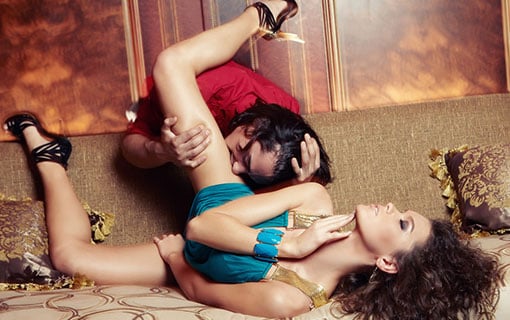 He holds you, he starts kissing your legs, your thighs, the back of your knees, the back of your neck. Next, he's whispering his sweet cravings in your ear. You tell him, "Hold me tighter, Honey…", and he smiles and continues to tantalize you even more… You love how freakin' great he is at making your entire body melt…
A guy will choose a woman based on how passionate she is when she's with him.
But she has to strike the right chord… Which creates performance anxiety in women.
Some guys like overtly-naughty women but others have their limits… And most would prefer you're not like an adult video star except on the rare occasion… It's a delicate balance opening to a man without overwhelming them when you're a sexually passionate creature…
So here's the "trick" I use to be able to be as lusty as I want without feeling like it cheapens my connection.
I make love like I am a PASSIONATE GODDESS.
That's why I took it upon myself to curate a warm, sensual, and most of all, TASTEFUL sex ed video program that honors the passionate gods and goddesses inside us all.
I made my Steamy Sex Ed Video Collection® for couples to watch together, singles to prepare for when they find "The One", and for lovers who want heart-connected, slow, sensual lovemaking.
Guys will love learning over 200 sexual skills. But more importantly, most women will appreciate the heart-connected lovemaking techniques that are displayed so tastefully.
The 8 videos in the Steamy Sex Ed® Video Collection will be going on SALE on the 22nd of June 2017. We will sell out so get one day advanced access to view the sample videos and see for yourself you want this sex-life affirming training series.
Let's help men learn goddess-pleasuring techniques that women deeply crave… And women learn god-honoring skills that men crave… and everyone along the gender spectrum, no matter what your equipment and desires can up your sexual pleasuring and connection!
Get On The VIP List ⇐ Incite Passion In Your Lover (Steamy Sex Ed® Is Going On SALE 60% OFF Discount)
You'll get one-day advanced notice before other people so you can have a chance to consider purchasing my Steamy Sex Ed® Video Collection before all of our 60% off sale copies are snatched up.
GET YOUR LOVER ADDICTED TO YOUR BODY
The candlelit sets are draped in silk and satin and showcase sensual massage and lovemaking techniques.
That creates a winning experience for both of you because my Steamy Sex Ed® Videos are heart-connected, conscious lovemaking techniques portrayed by couples who are handsome and pretty but NOT TOO PERFECT.
And I want to make sure you get a copy for yourself and your lover before we sell out. I have over 60 distributors promoting this sale — the second biggest event we've EVER had. So hop right onto the VIP list right now so you have the choice to purchase if you want the videos. (we have a 60-day money back guarantee, so you can try them and make sure you love them)
Steamy Sex Ed® Video Collection VIP List ⇐ Jump To The Head of the Line!
The Steamy Sex Ed® Video Collection is available in HD digital streaming and download as well as physical DVD's. However, there will only be a limited number of copies. And we usually sell out days before the sale ends. So I suggest you sign up for the VIP list to get your copy before everybody else gets the chance to order theirs.
I only print 500 at a time because the inventory carrying costs are high.
So if you want to be at the head of the line, in front of everybody else who can't wait to get a taste of Steamy Sex Ed®, get on the VIP List today!
Steamy Sex Ed® Video Collection VIP List ⇐ Jump To The Head of the Line!
(We will sell out! Get on the VIP List to get one day advanced notice before the crowds buy everything and you can't get a copy. This 60% Off "Flash Of Passion" SALE Ends 6/26/17 or sooner if we run out of copies. There are only 500 DVDs available for purchase at this sale price. Digital-Only option is available. Get on the VIP List.)
Because you're one of my readers, I want you to have first dibs.
Go ahead and take one second to click and press enter to get on the VIP List now.
Too many women tell me their lovers just, "get down to business" too fast!
Guys, I know you want it like, "Wham, Bam, Thank you, Ma'am." But that's not what SHE wants.
Being passionate, confident but not acting like an adult star strikes the perfect balance.
For both men AND women.
And that is exactly what the Steamy Sex Ed® Video Collection teaches couples (and singles) how to do.
Get On The VIP List ⇐ Over 200 Advanced Lovemaking Moves To Wow Him Into Devotion And Passion (Going on SALE 60% OFF Discount)