Make your own. Tastes BEST.
The more fresh leafy greens you can add to your life the more vitality you'll have. Eating big salads with small amounts of quality protein are our go-to meals the majority of the time. Make this dressing ahead and it will keep for a couple weeks. Once you eat your own dressing, bottled dressing (which is full of crap chemicals) will never satisfy you again. So beware of the deliciousness ahead: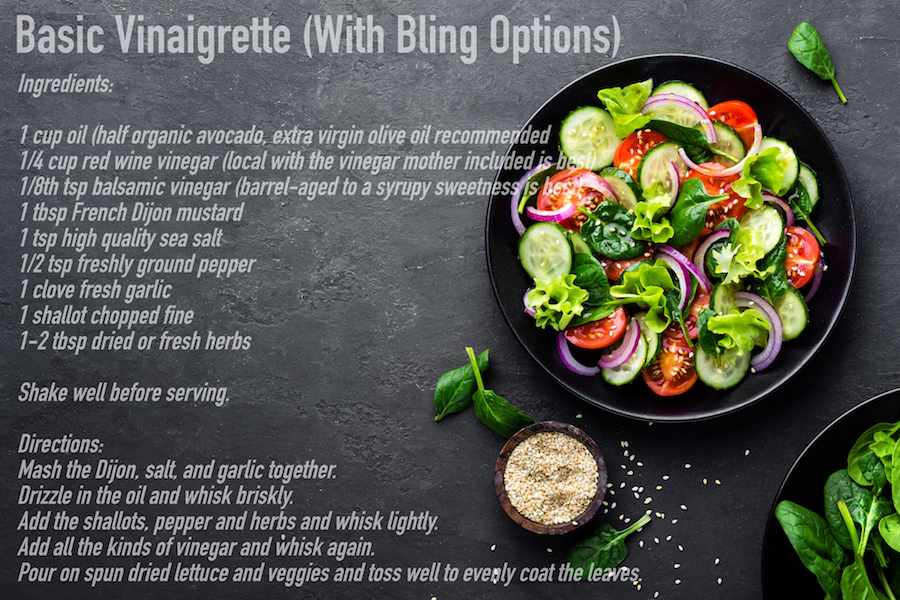 Alternatives and Bling
You can use a light olive oil instead of avocado.
You can use apple cider vinegar instead of red wine.
The herbs I recommend are either savory or marjoram. I don't mix the two, I pick one or the other.
If you want to use fresh herbs, Lemon Thyme is delicious.
You can double this recipe and keep it in a big jar in the fridge for a couple weeks.
The other way I get a lot of greens into my body — 8-10 servings of vegetables a day — is to drink a green juice every day I possibly can.
My friend Drew Canole has recently come out with Green Drink. It's a powder you mix in water. It tastes great and it's full of phytonutrients.
If you don't want the hassle of buying, washing, juicing and cleaning up to make your own fresh juice, at least try one Green Drink while you're on the go each day. Drew has individual serving packets and he's given me a special link for you to try it for free with the link below.
Unlock Additional Members Only Content
Please login or register for a Free Membership to view this content.
<== Free Trial (You pay $7.99 shipping only $9.99 for international)